VEX Professional Development Plus (PD+) provides dynamic, ongoing, professional development for all VEX platforms with a variety of tools and resources. The variety of the resources allows you to tailor VEX PD+ to suit your teaching needs, and those of your students. This article provides a brief overview of the wealth of offerings available in VEX PD+.
See this article for information on how to integrate these offerings to get the most out of VEX PD+.
---
Dashboard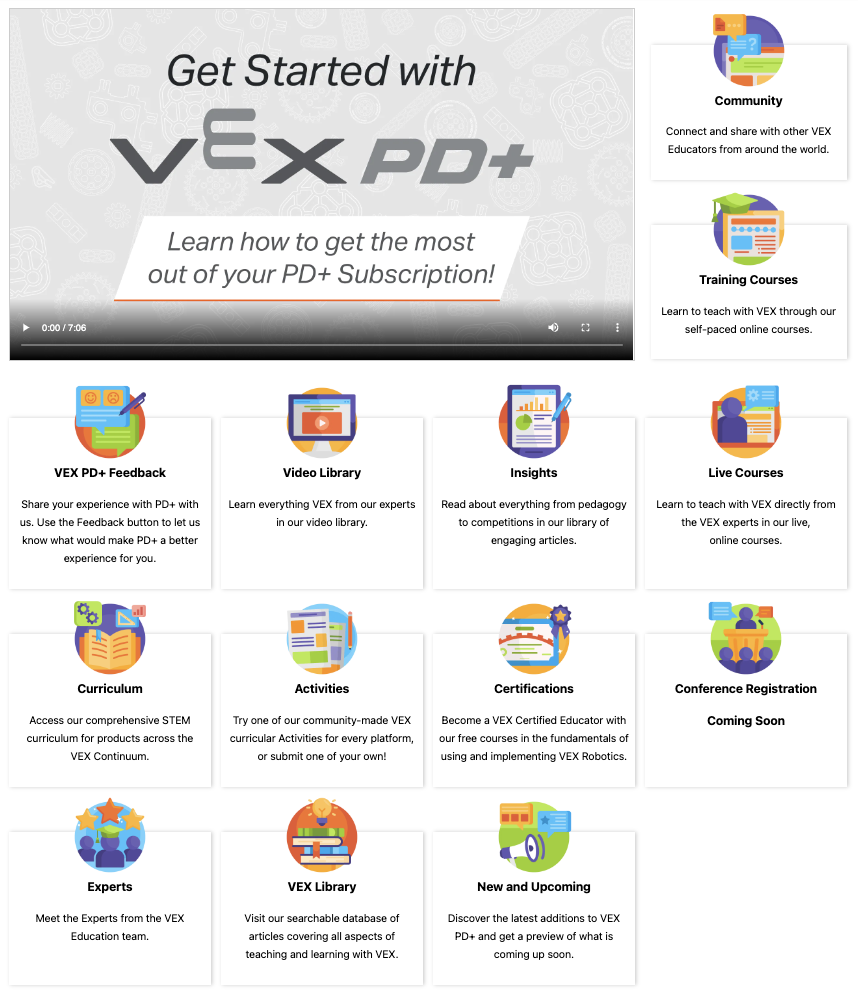 The VEX PD+ Dashboard is your starting point that contains account information and a menu of offerings. Consider this your 'home base' as you work with VEX PD+.
---
New and Upcoming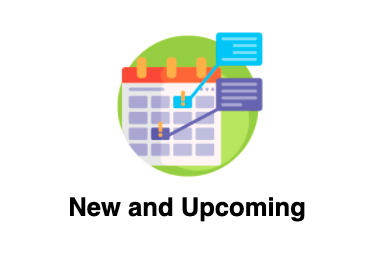 In the New and Upcoming section you will find information on upcoming webinars, conferences, events, and new VEX PD+ content.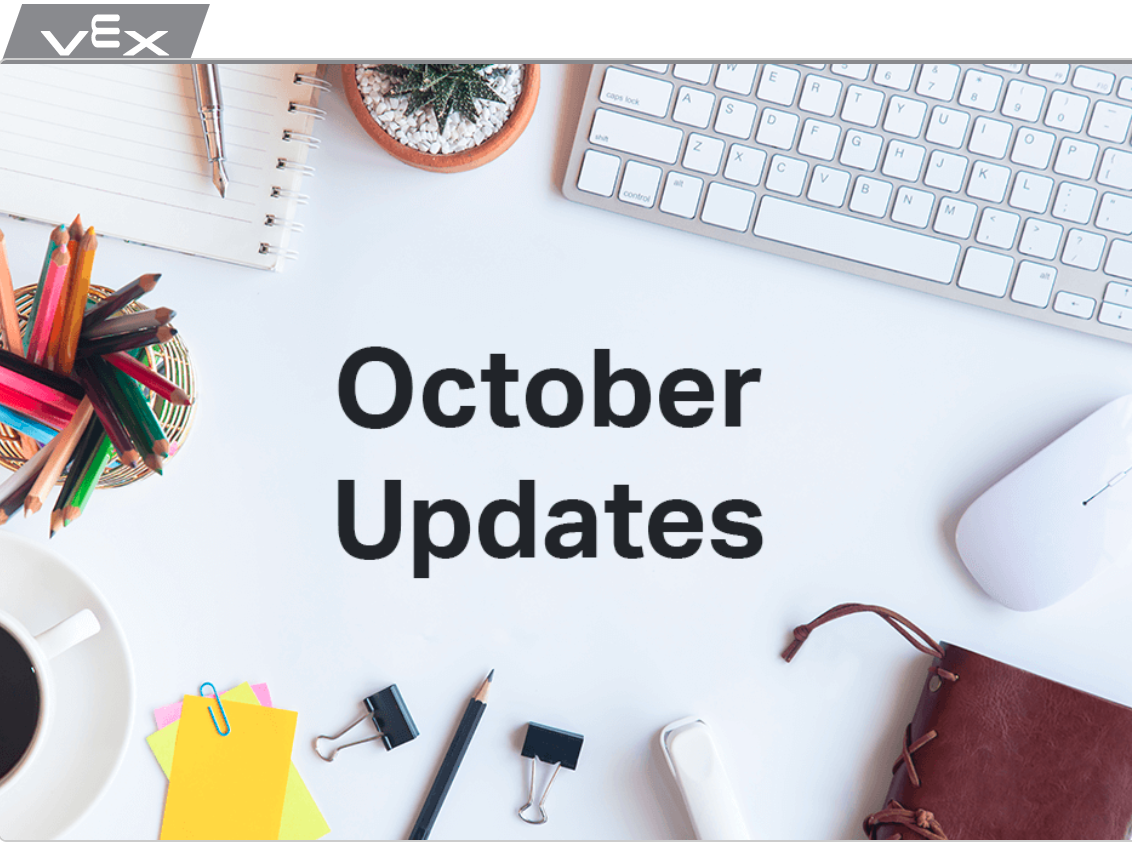 Updates are added on a monthly basis, on the last Friday of every month.
---
Community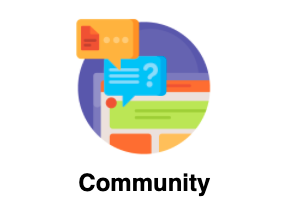 The Community is a Professional Learning Community (PLC) — a community of professionals that communicates regularly, coming together as a community to learn from each other.
The Community is a place for educators to ask questions, share expertise and work collaboratively to improve STEM teaching skills and student performance.
See this article for more information and for instructions on how to introduce yourself to the community.
Live Courses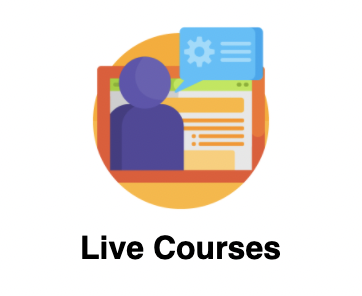 ---
VEX PD+ Live Courses provide live, expert led professional development on how to develop your teaching with VEX platforms so that you can teach with confidence, and provide the most relevant and equitable learning experiences for your students.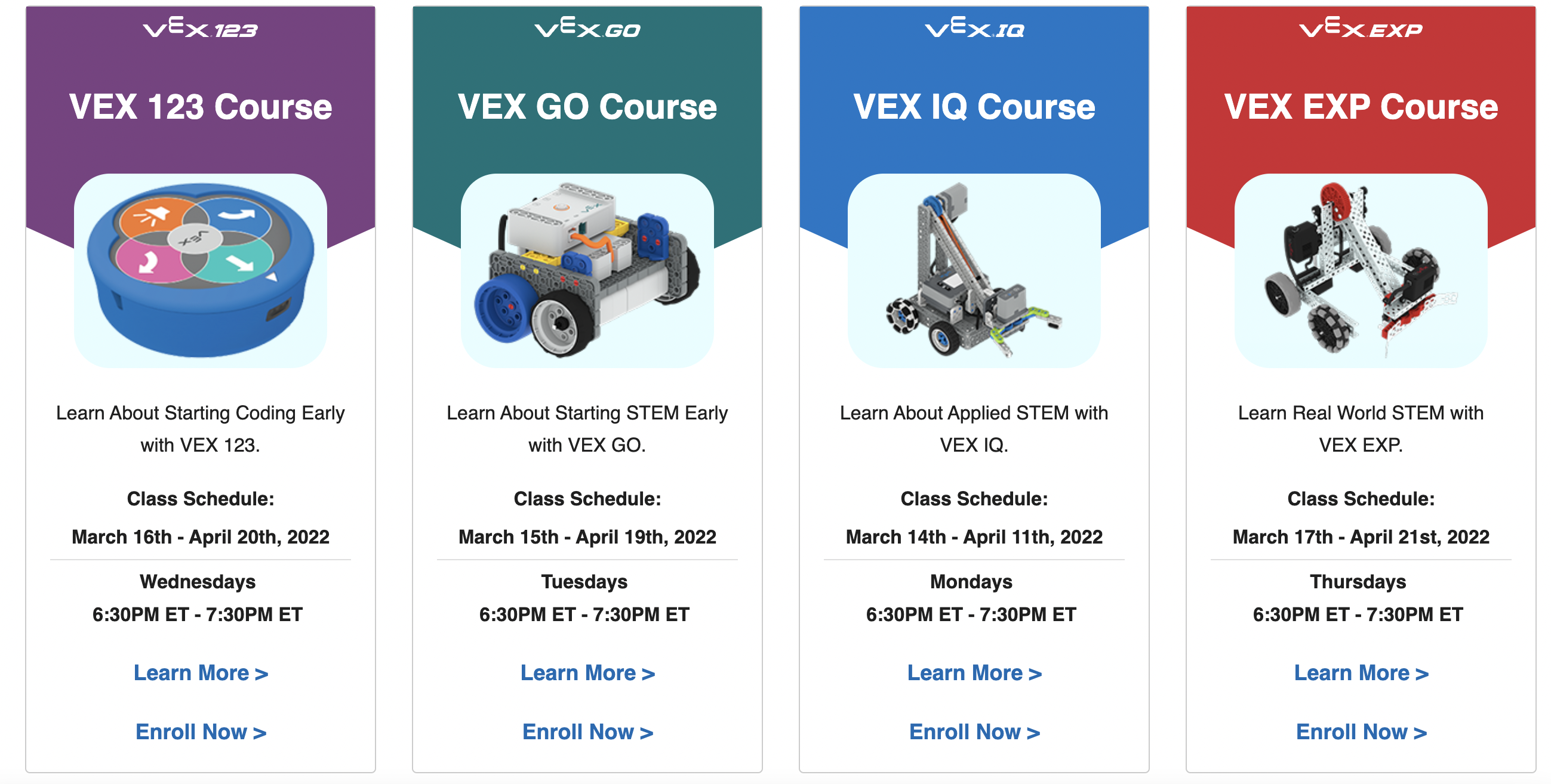 ---
Videos: Professional Development Library
The VEX Professional Development Library provides professional learning videos that offer dynamic, self-paced training for all VEX platforms.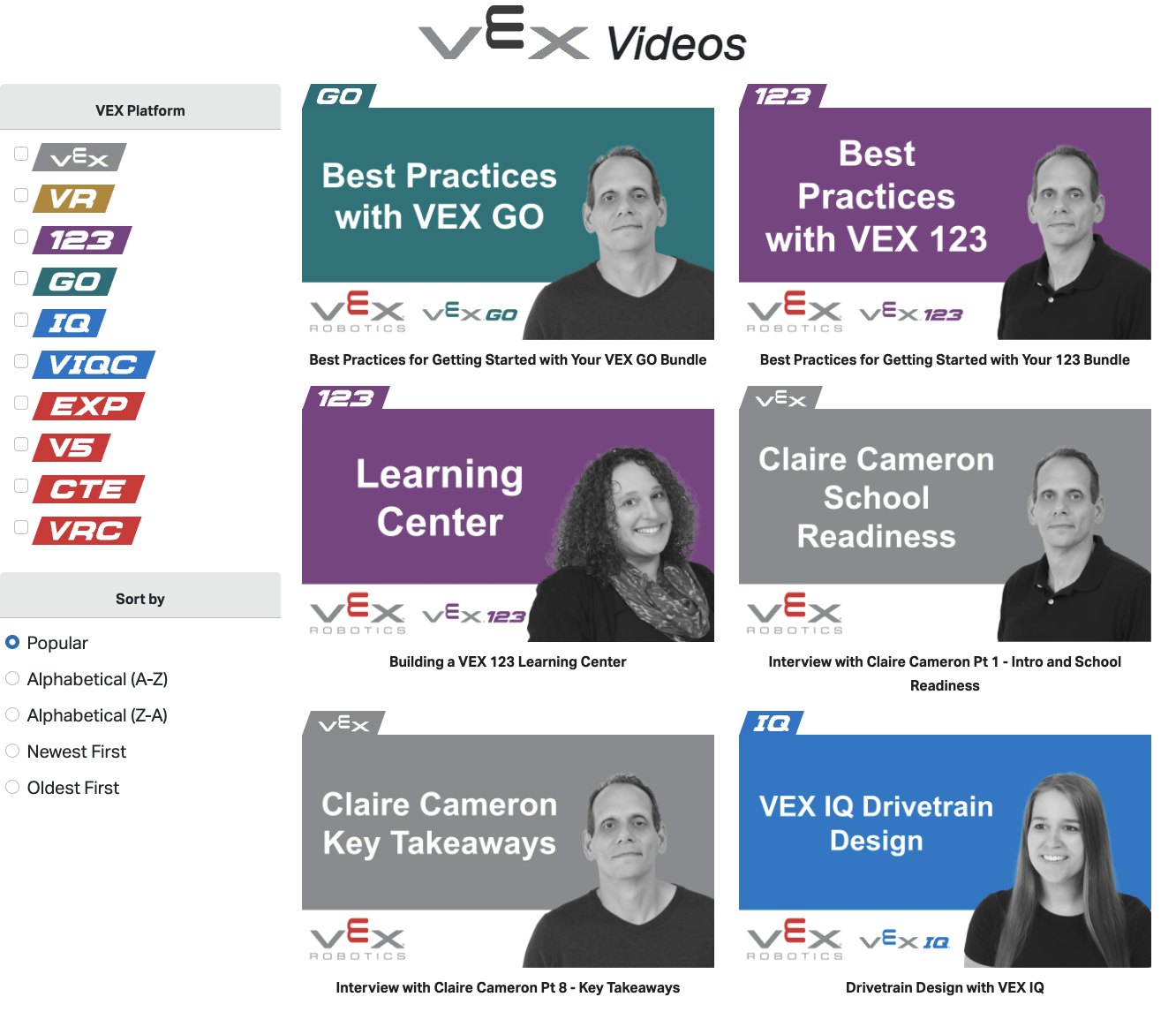 The Professional Development Library is an ever growing collection of videos that are timely, targeted, and cover a wide range of topics. Video topics range from:
STEM pedagogy and practice

Ex. Organizing Group Work

How to teach a particular STEM Lab
Information on coding

Ex. Using the Code Viewer

Information on Engineering

Ex. Mastering the Workcell
The filter feature in the Professional Development Library allows you to quickly and easily find the resources that are most relevant to your interests and needs.
After viewing a video, you can continue your learning by discussing videos in the VEX PD+ PLC.
---
Curriculum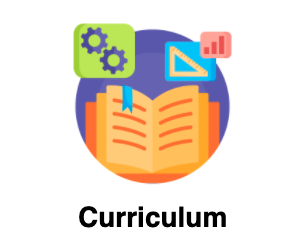 VEX Curriculum provides free, flexible curricular resources that can be adapted to meet the needs and interests of students in a variety of educational settings. A driving principle of VEX curricular resources is to provide hands-on-learning activities that allow students to apply technology, science, math, and engineering skills, and promote collaboration and exploratory learning.
---
Activities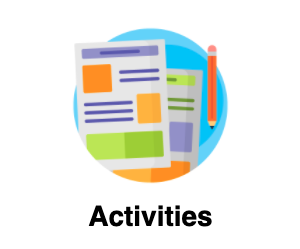 Activities is a library of community lessons have been created by members of the VEX PD+ network of educators.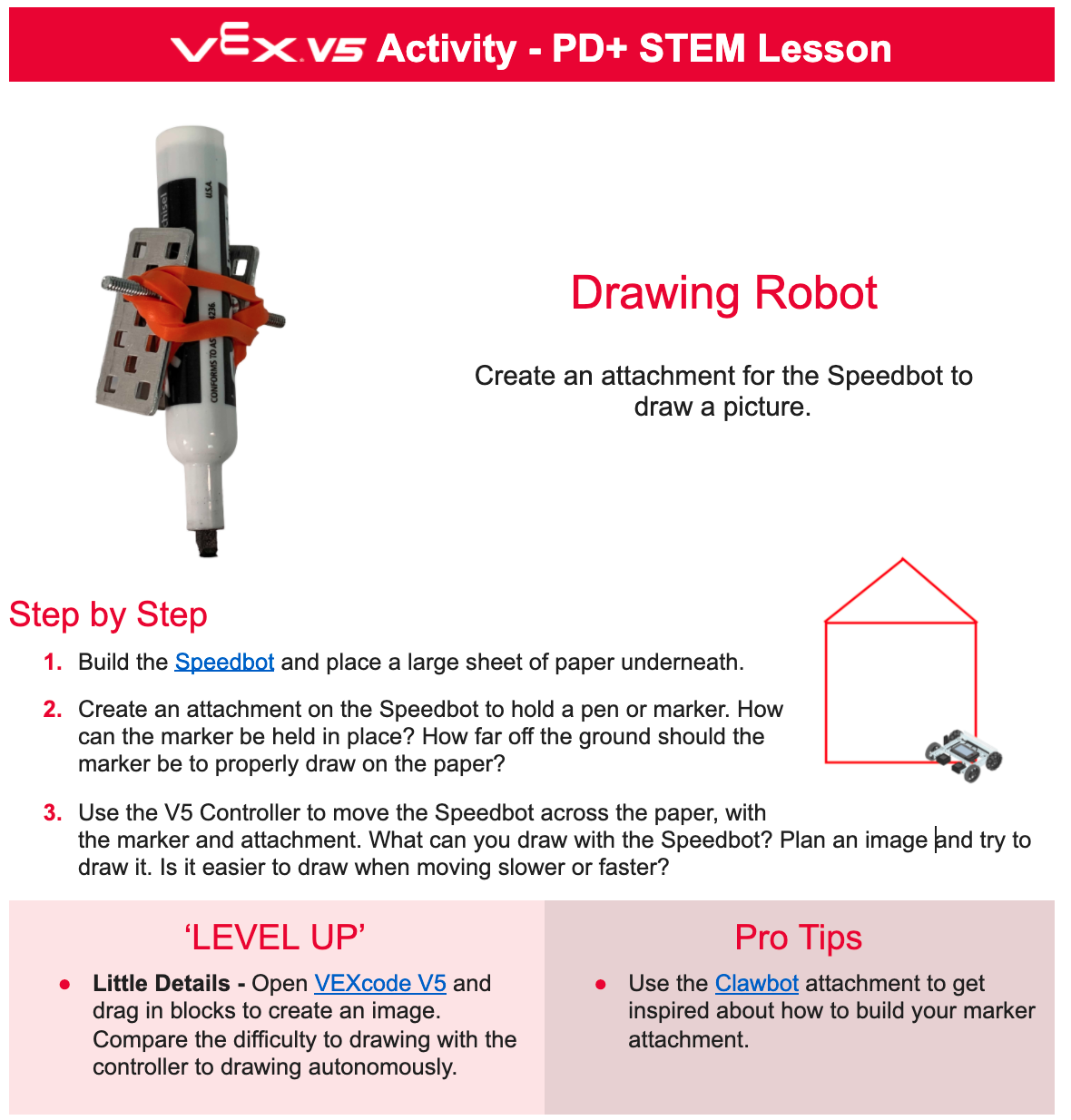 These student-facing lessons are designed to engage students with VEX materials in new and exciting ways.
Each lesson is an Google Doc that can be easily downloaded and printed, or accessed on any classroom device.
All lessons are customizable so you can adapt the lessons to suit your classroom needs.
You can also contribute to the community by submitting a lesson of your own.
---
Insights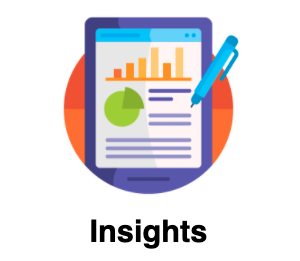 Insights are articles written by the experts at VEX. Articles will cover topics like STEM Pedagogy, STEM Research, and Updates on VEX products. Articles are added in the monthly updates.
---
Educator Certifications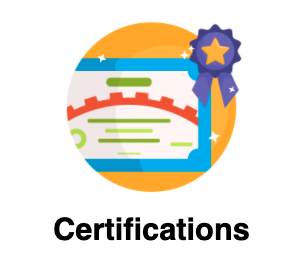 VEX offers free Educator Certification courses for each platform that are online, allowing you to work at your own pace. VEX Educator Certification courses track your progress and save the place where you left off, giving you the freedom to work when you want, based on your schedule.
---
Educator Conference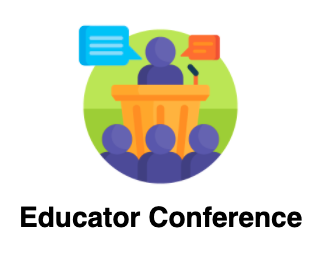 Admission to the VEX Educator Conference is included with your VEX PD+ subscription at no additional charge. Plan to join us at the VEX Educator Conference during VEX Robotics World Championship in Dallas.
---
Experts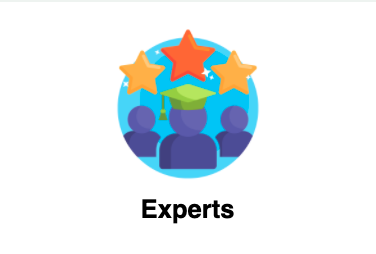 Learn more about the VEX PD+ Team of Experts here as you get expert feedback to help you build confidence and become inspired teaching with VEX.