The Video Library in VEX PD+ includes hundreds of videos spanning the VEX Continuum that you can watch to help you find the answers to questions, learn more about a certain concept, or grow your teaching practice. With on-demand learning at your fingertips, you can find videos across a variety of topics and VEX platforms when you need them, with access anytime, from anywhere.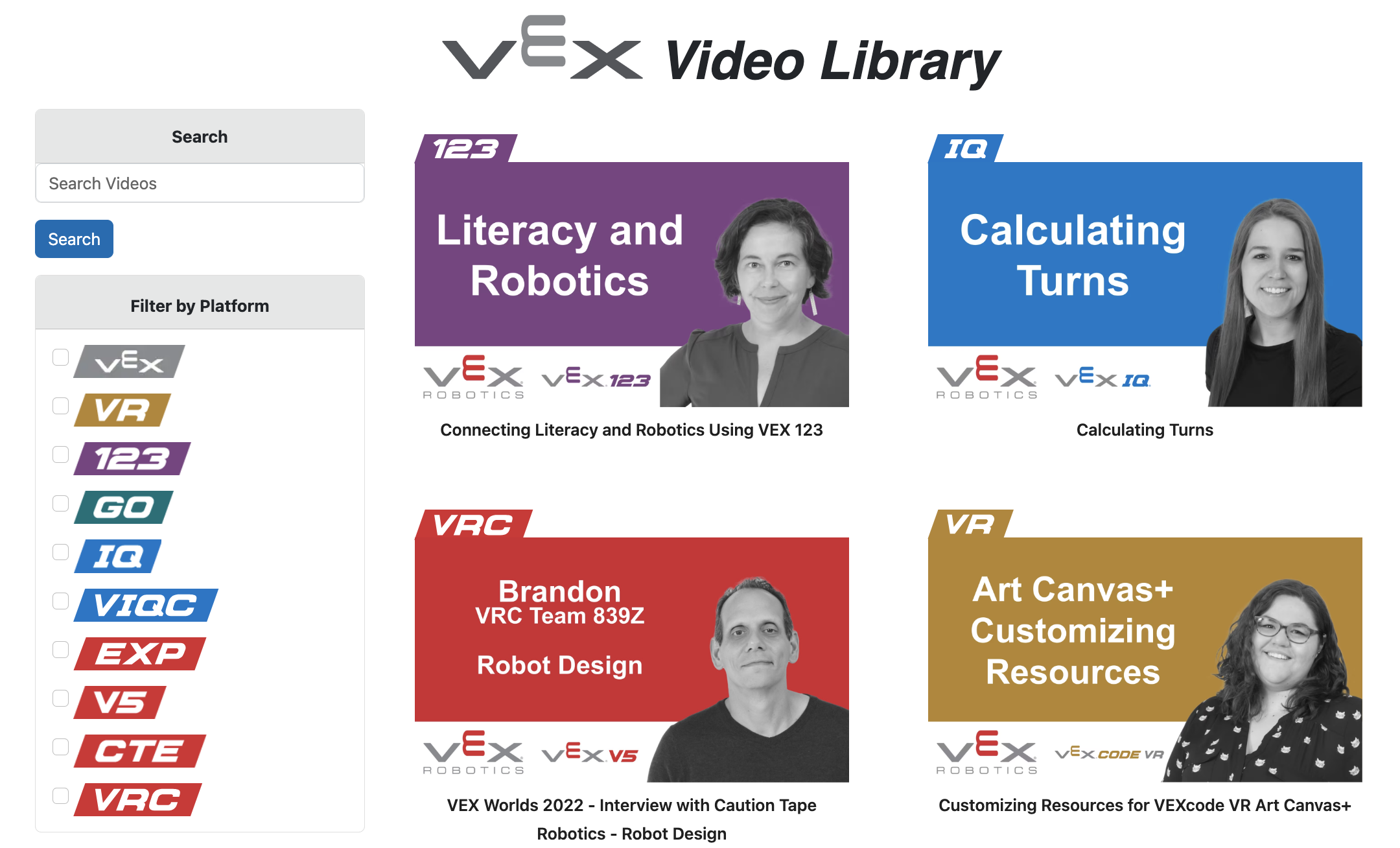 You will need to have an active subscription to PD+ to access the Video Library. For more information about activating or obtaining a PD+ subscription, see this article.
---
What is the Video Library?
The VEX PD+ Video Library is an expansive educational resource specifically designed to support learning across the VEX Continuum. It hosts hundreds of videos spanning various concepts, topics, and VEX platforms, enabling users to tap into a wealth of information whenever and wherever needed. Whether you're seeking answers to specific questions, delving deeper into a certain concept, or striving to enhance your teaching methodology, the VEX PD+ Video Library provides a comprehensive collection of on-demand videos designed to cater to these educational needs.
What sets this video library apart is its flexible and personalized approach to learning. The videos vary in length, style, and topic, and are accessible around the clock, empowering users to define their own learning journey at their own pace. This means you can focus on content that resonates most with your learning or teaching objectives, and revisit videos as often as needed. So whether you're a novice exploring the VEX platforms for the first time, or an experienced user looking to refine your skills, the VEX PD+ Video Library is an invaluable tool to support your continuous learning and professional growth.
---
How do I navigate the Video Library?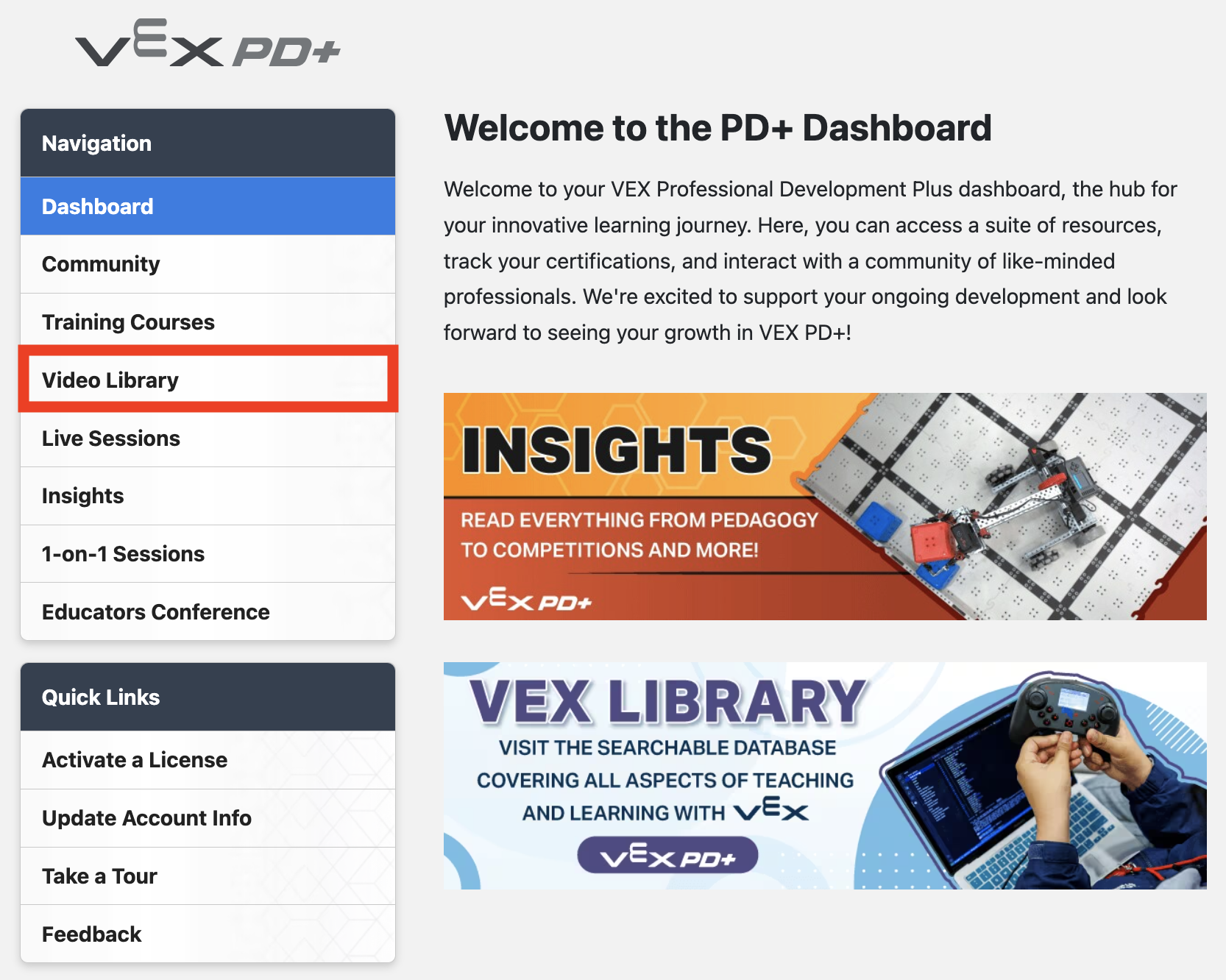 Once you are logged into PD+, select 'Video Library' from the Dashboard.

On the Video Library page, you will see three ways to filter out results: a search bar, filter by platform, and an option to sort videos.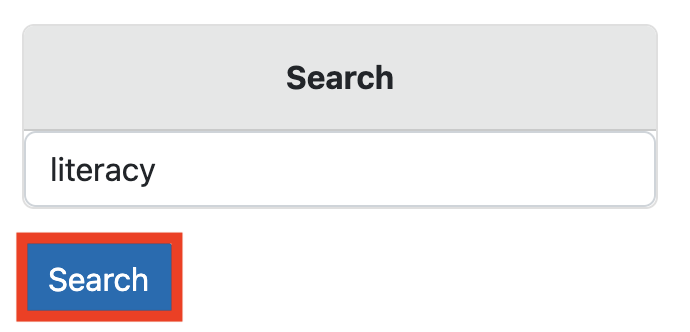 To use the search bar, insert key words related to what you are looking for, then select 'Search.' In the example shown here, "literacy" was searched.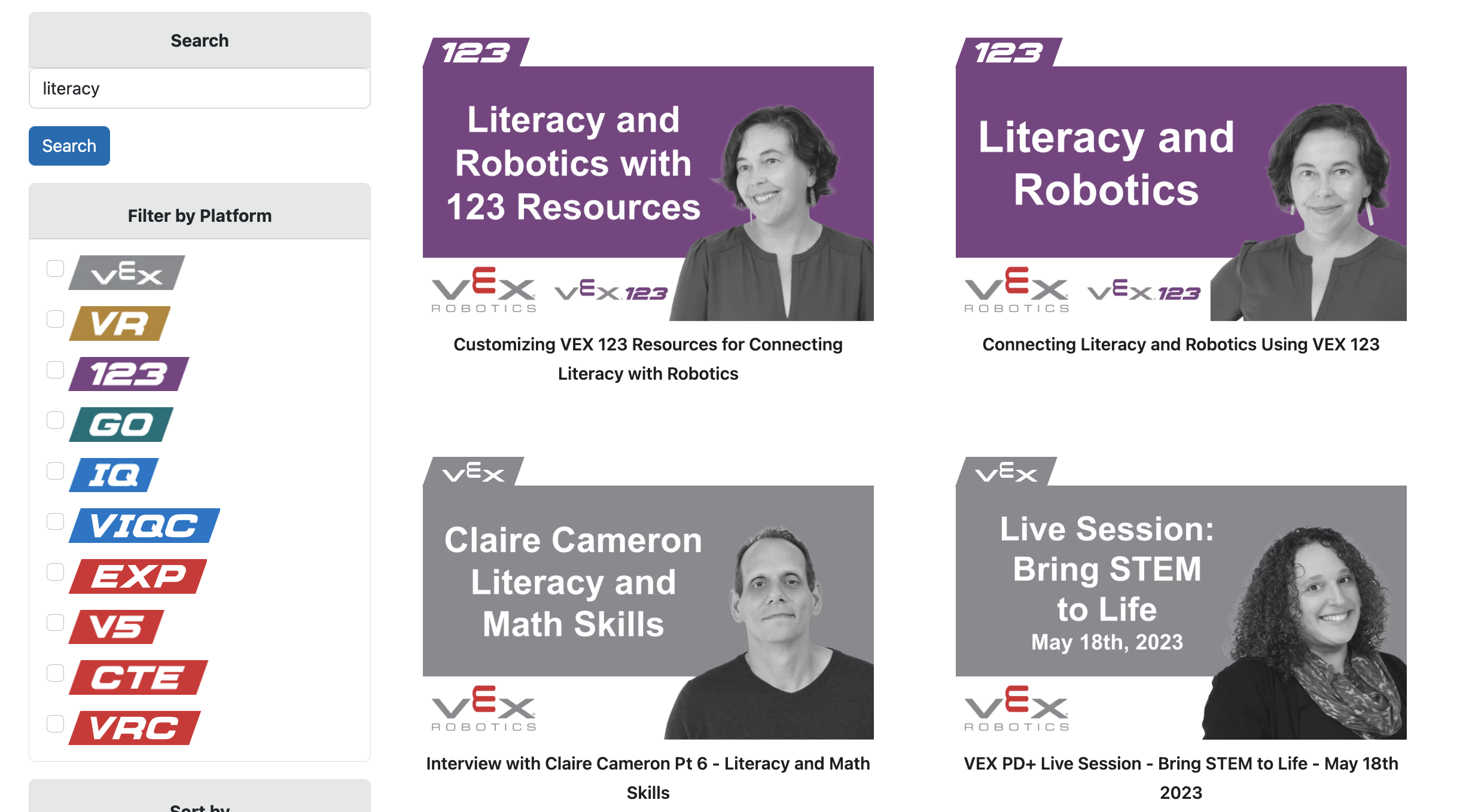 The Video Library will pull up all videos that reference literacy in the title or in the description of the video.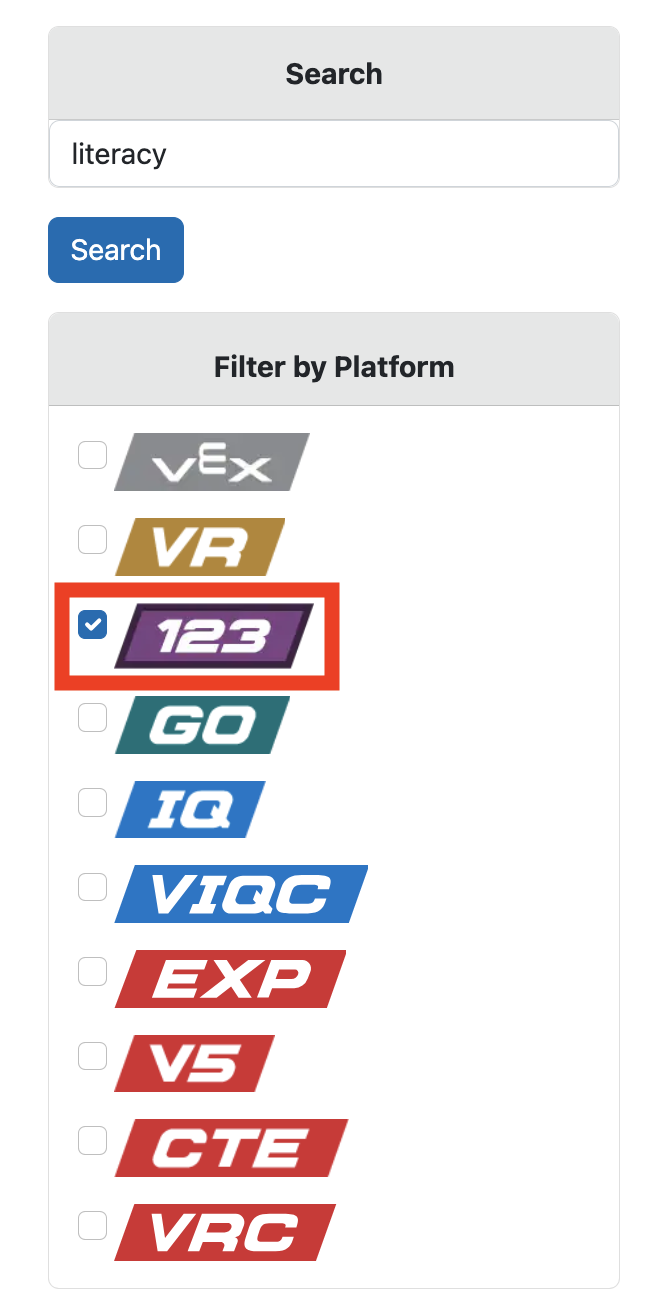 To further refine your search, you can use the "Filter by Platform" option. Select the checkbox next to the platform that you are looking for. In the example shown here, 'VEX 123' was selected.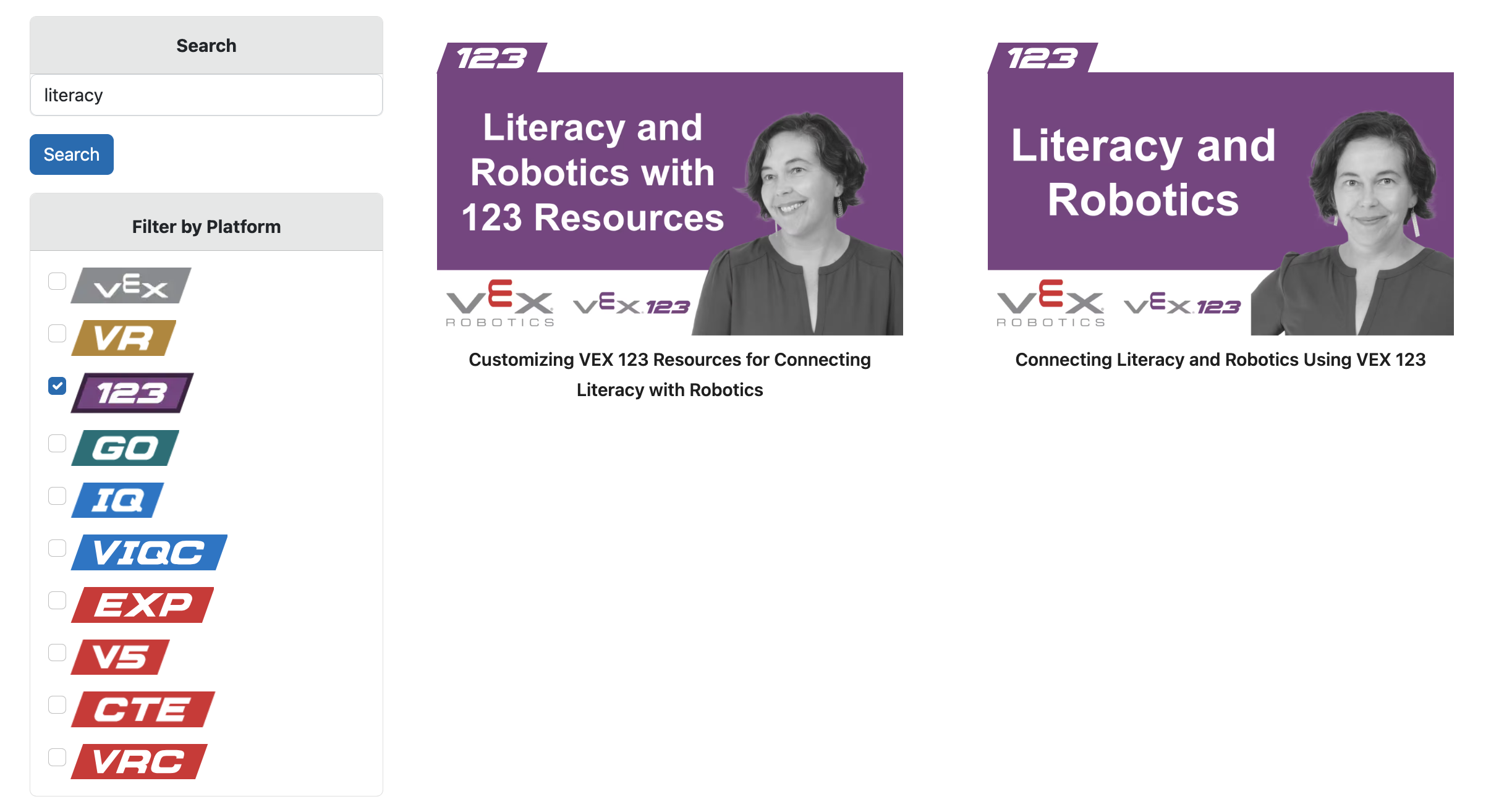 The Video Library will now filter the results so only videos matching the platform and search terms will be shown.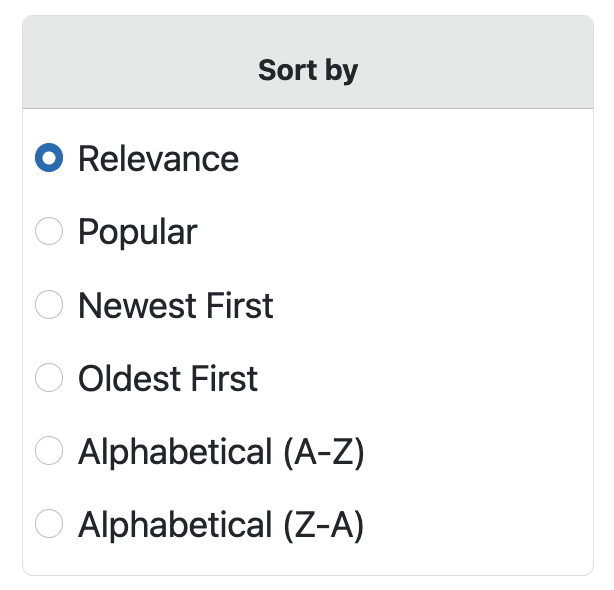 Videos can also be sorted by relevance, popularity, the age of the videos, or alphabetically. Select any of the options to sort the videos that appear in your search.