The 1-on-1 Sessions in PD+ offer a unique opportunity for PD+ subscribers to engage in personalized professional development with VEX educational experts. They offer educators the ability to have their own questions answered, to brainstorm for their setting, and to learn how to implement VEX to best meet their unique needs.
You will need to have an active subscription to PD+ to enroll in a 1-on-1 Session. For more information about activating or obtaining a PD+ subscription, see this article.
---
What is a 1-on-1 Session? 
The 1-on-1 Sessions in PD+ enable you to have this privileged access to VEX experts throughout the year, fostering an open and supportive environment where inquiries can be made confidently and without reservation. Each 1-on-1 Session is a 30 minute video call with a VEX expert, in which you can discuss the topic of your choice – from asking questions, to troubleshooting, to lesson planning, to tips and tricks for teaching with VEX in your setting – the time is yours! 
During the 2023 VEX Robotics Educators Conference, 1-on-1 Sessions offered conference attendees an opportunity to sign up for an in person conversation with the VEX educational experts. In these conversations, educators were able to make a personal connection with the VEX experts, ask meaningful and pertinent questions about their individual situations and settings, learn about resources available to them while they teach, brainstorm lesson ideas, and much, much more.
---
What are the benefits of a 1-on-1 Session? 
A 1-on-1 Session enables you to take the idea of personalized professional development to a new level.  In these Sessions you can get timely and targeted support and advice about the questions or topics that you need in that moment, with your students, in your space. 
Topics of conversation can be wide ranging, including but not limited to: 
Having a guided lesson in mastering the Workcell
How to find or curate a scope and sequence for teacher new to VEX 
How to navigate PD+ to access its full benefit
Where to find curricular resources in an IQ STEM Lab
Strategies for teaching CS with VEX
Planning professional development sessions for elementary teachers new to VEX
How to get started teaching as a new VEX educator
Ways to facilitate engineering and building with students
How to get started coaching a team 
Ways to expand and take students further with the VEX materials in your space 
Strategies for grouping and assessing students with robotics 
Much, much more! 
In these sessions, you are able to ask questions about VEX educational resources directly to the authors and creators of those resources. While sessions are 30 minutes in length, the conversation doesn't stop when the video turns off. These sessions are often a jumping off point for PD+ Community conversations where you can take your learning even further and share your progress beyond the session. 
---
How do you sign up for a 1-on-1 Session?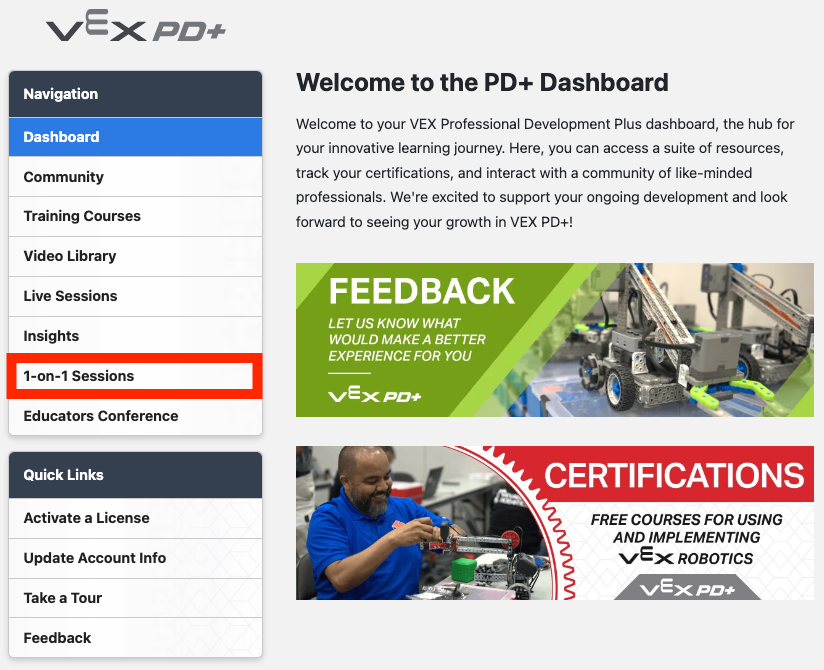 Once you are logged into PD+, select '1-on-1 Sessions' from the Dashboard.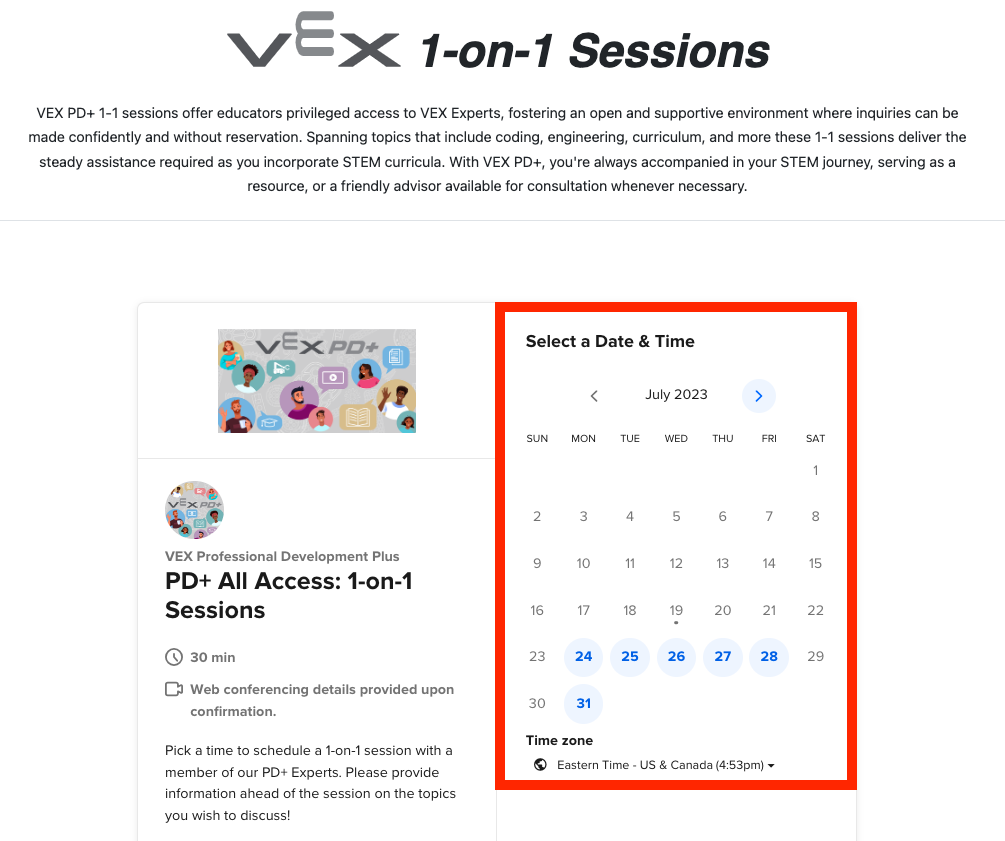 On the 1-on-1 Sessions page, you will see a calendar. Select your desired date to view the available times for that day. Available days are indicated in blue.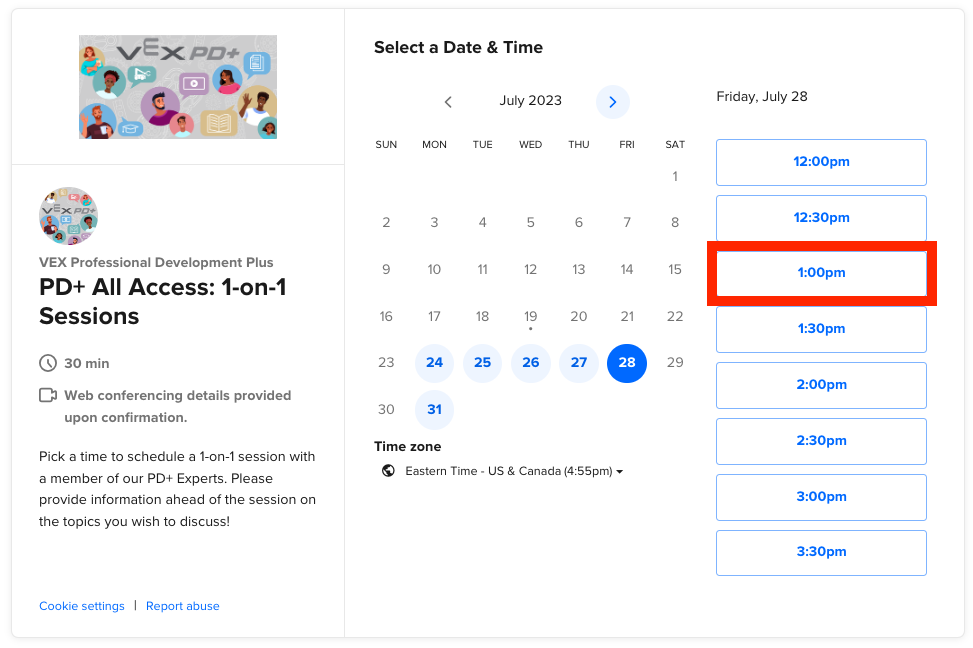 The available times for that day will appear to the right of the calendar. Select the time of your choice. If none of the time slots work for you, you can select a different date on the calendar to view other session times.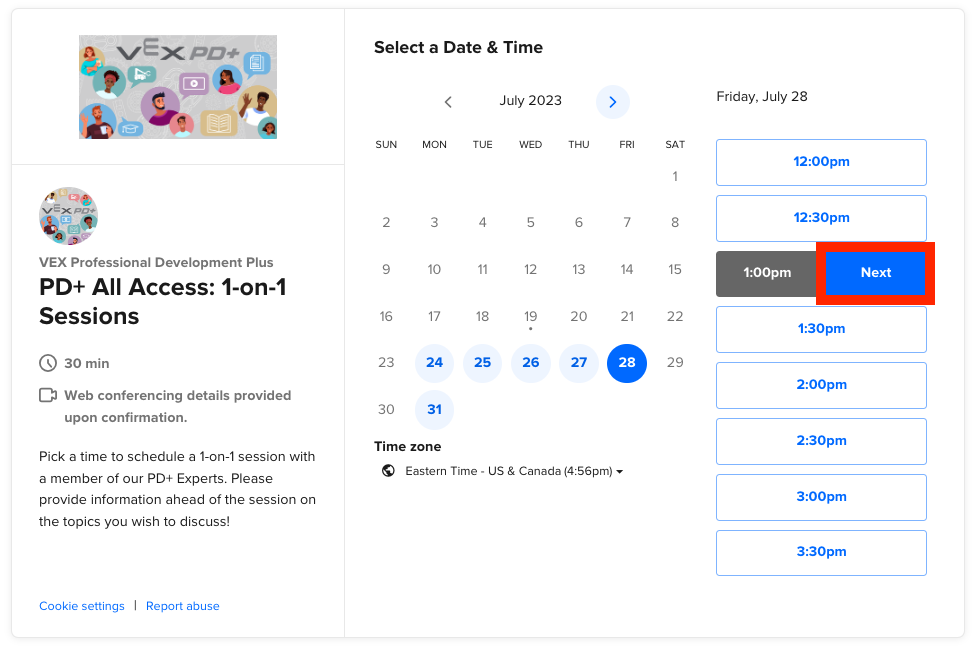 Select 'Next' to choose that 1-on-1 Session.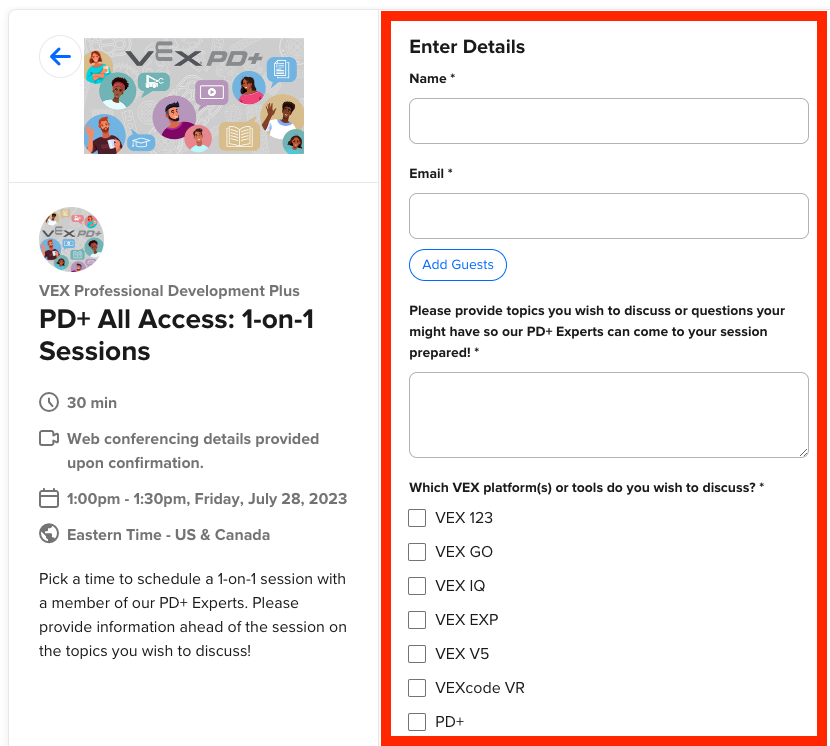 Next, enter your Name, email, the VEX platform you want to discuss, and information about discussion topics. Please share your questions and what you are interested in learning more about in the session. The more information you provide here, the better prepared the VEX experts can be for your conversation!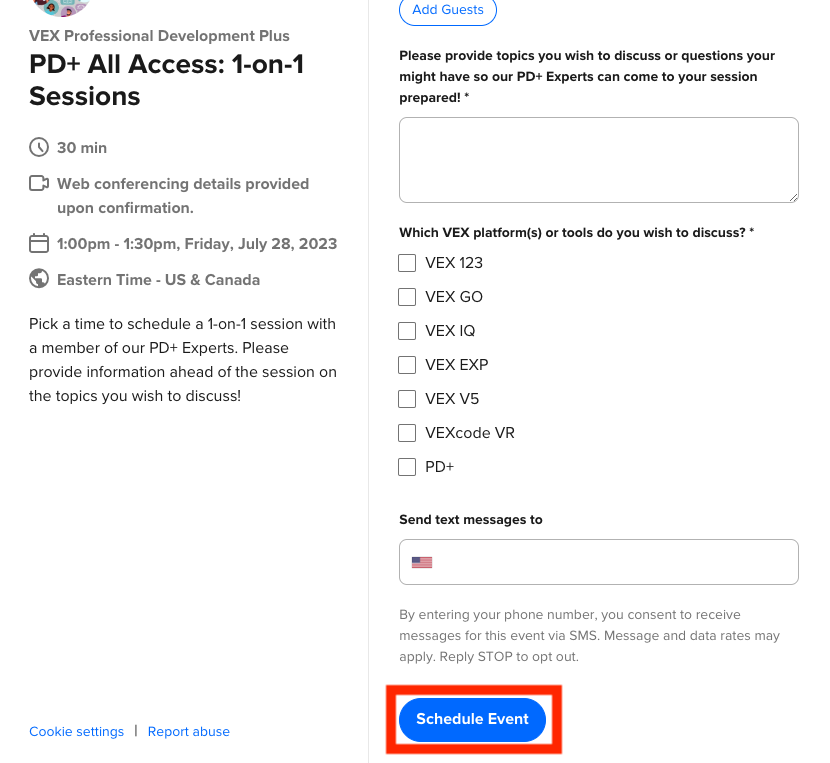 Scroll down enter your phone number to receive optional messages about the 1-on-1 Session. 
Once all your information is entered, select 'Schedule Event' to schedule your session.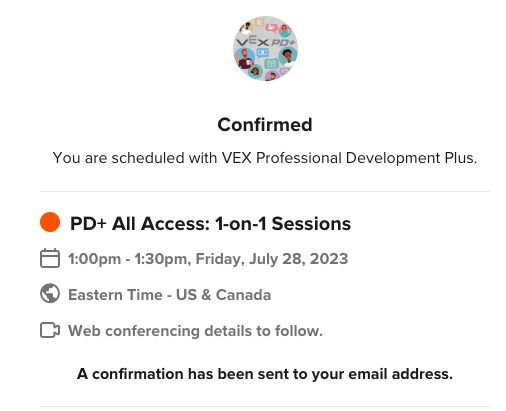 You will then see a confirmation of your scheduled 1-on-1 Session. You will also receive an email confirmation that includes the link to the session. 
At the time of your scheduled 1-on-1 Session, use the link in the confirmation email to join the session.
If you need to reschedule or cancel your 1-on-1 Session, you can select the 'Reschedule' or 'Cancel' buttons at the bottom of the confirmation email.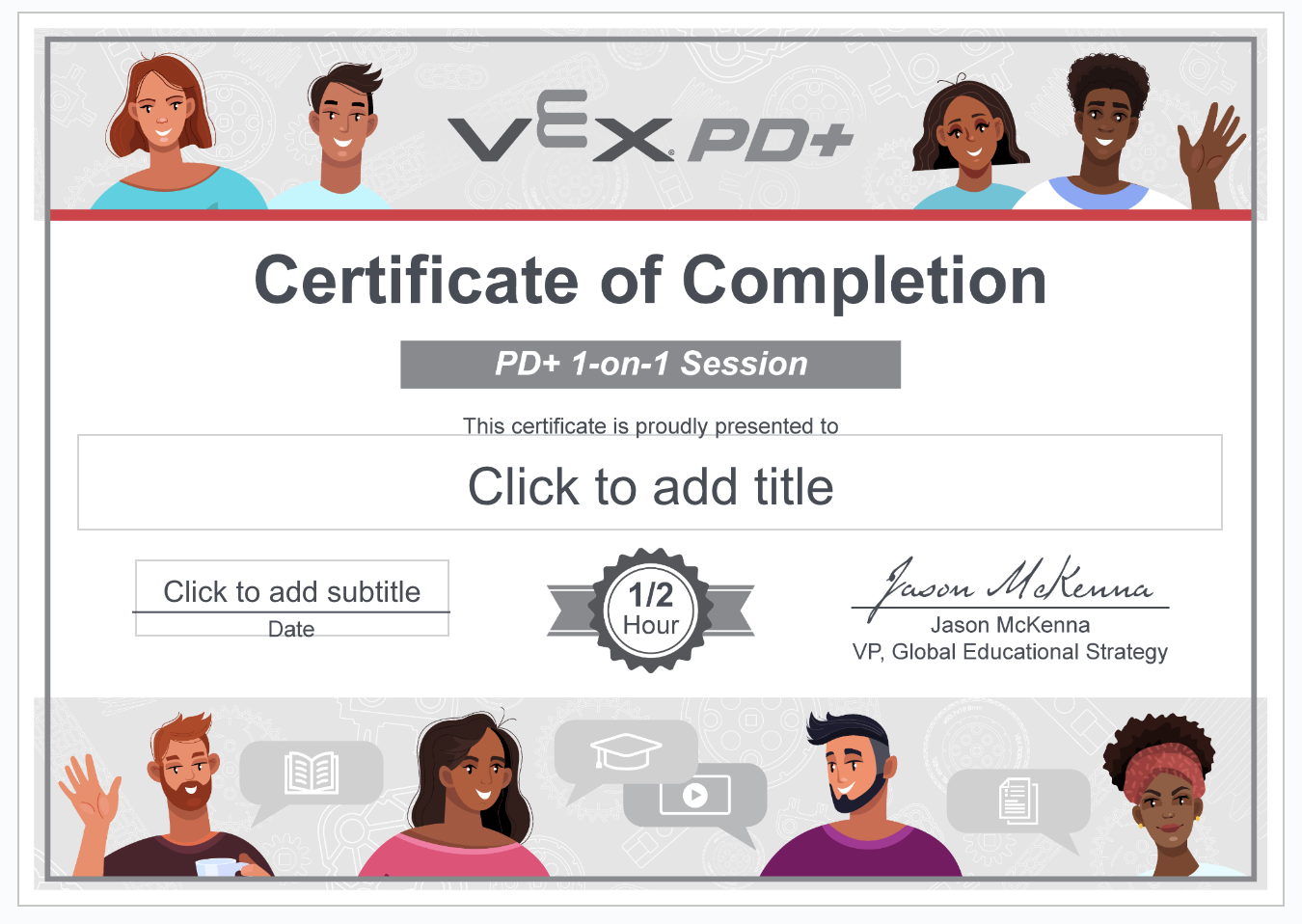 Once you have completed your 1-on-1 Session, you will receive a Certificate of Completion by email confirming your professional development time spent.