Welcome to teach123.vex.com!
Welcome to teaching with VEX 123! VEX 123 is specifically designed to help anyone bring computer science to life for their students, no matter what experience they have with robotics. Whether using VEX 123 in a learning center, as part of a math lesson, in a STEM class, or in an after-school club, there are materials that make it easy for you to get started teaching with VEX 123 in any setting. This page is a hub of resources that you can use as you begin teaching with 123, and return to later to learn more. Educators' plates are more full today than ever before, often with more questions than answers. This page is here to help you take the guesswork out of teaching with VEX 123, and to be a support on your STEM teaching journey. 
"VEX 123 was so approachable that even with no prior experience, I was able to start teaching with the robot right away. My students loved their robots from day one! Over time we all learned about coding together, and more importantly, I found that I could take the fun and excitement of using the robots to help students practice other skills and subject matter also. So it has been a win-win experience for the whole class!" 
Audra Selkowitz
former Kindergarten teacher
Can't view this video? Download here >
---
Getting Started is Easy!
While VEX 123 can be used to teach computer science, it can also be used to infuse computer science concepts into your existing curriculum. Using the 123 Robot to reinforce subject area concepts and skills is a way to capitalize on the engagement and motivation that the robot brings to classroom activities. VEX 123 curricular resources offer a variety of subject area connections to help you bring 123 into your classroom in ways that best meet your students' needs and interests.
Activities, Activity Series, and STEM Lab Units offer growing levels of teacher support and scaffolding. Activities are simple enough for independent student use; Activity Series build on Activities with some Teacher Notes about the setup; and STEM Lab Units are like an online teacher's manual with a wealth of embedded planning and teaching resources.
Scope and Sequences to get started
Check out these curated Scopes and Sequences for a 9-week implementation in the subject area of your choice. Scope and sequence documents are provided in an editable Google Doc formate as well as in an easily printable pdf.
---
VEX Professional Development Plus (PD+)
VEX Robotics offers comprehensive professional development resources available on pd.vex.com. VEX's Professional Development Plus (PD+) platform is your destination for a wealth of resources designed to empower educators in the world of STEM. The VEX PD+ platform offers two tiers - a free tier and an All-Access paid tier.
VEX PD+ free tier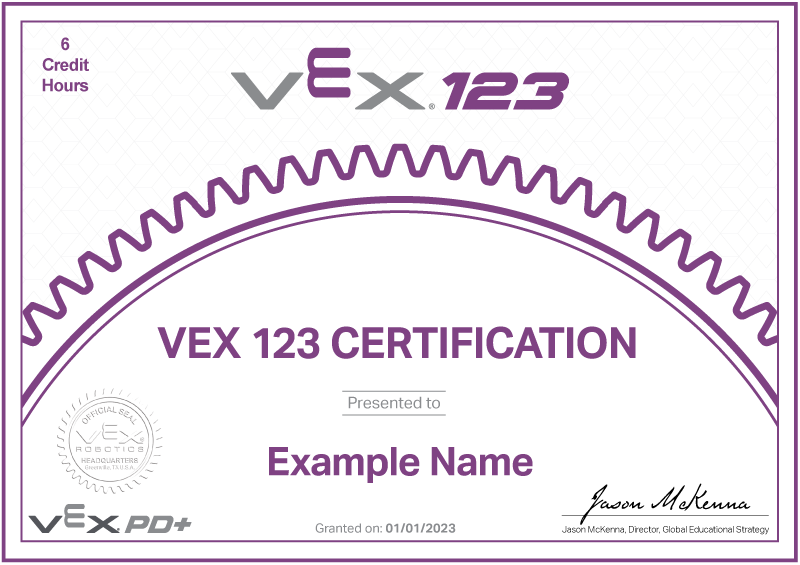 The VEX PD+ free tier includes access to:
Intro Courses: These self-paced online courses provide training on each VEX platform. Each course contains formative assessment and tracks your progress, making it easy for you to check your understanding and complete the course at your own pace. Once you become certified, you gain access to the VEX Professional Learning Community (PLC).
Professional Learning Community (PLC): Join a network of global educators and VEX Experts, where you can learn, share, and benefit from a wealth of shared experiences. This is your virtual Teacher's Lounge, where you can have meaningful dialogue, share expertise, ask questions, and work collaboratively to improve your STEM teaching and learning.
VEX PD+ paid tier (All-Access)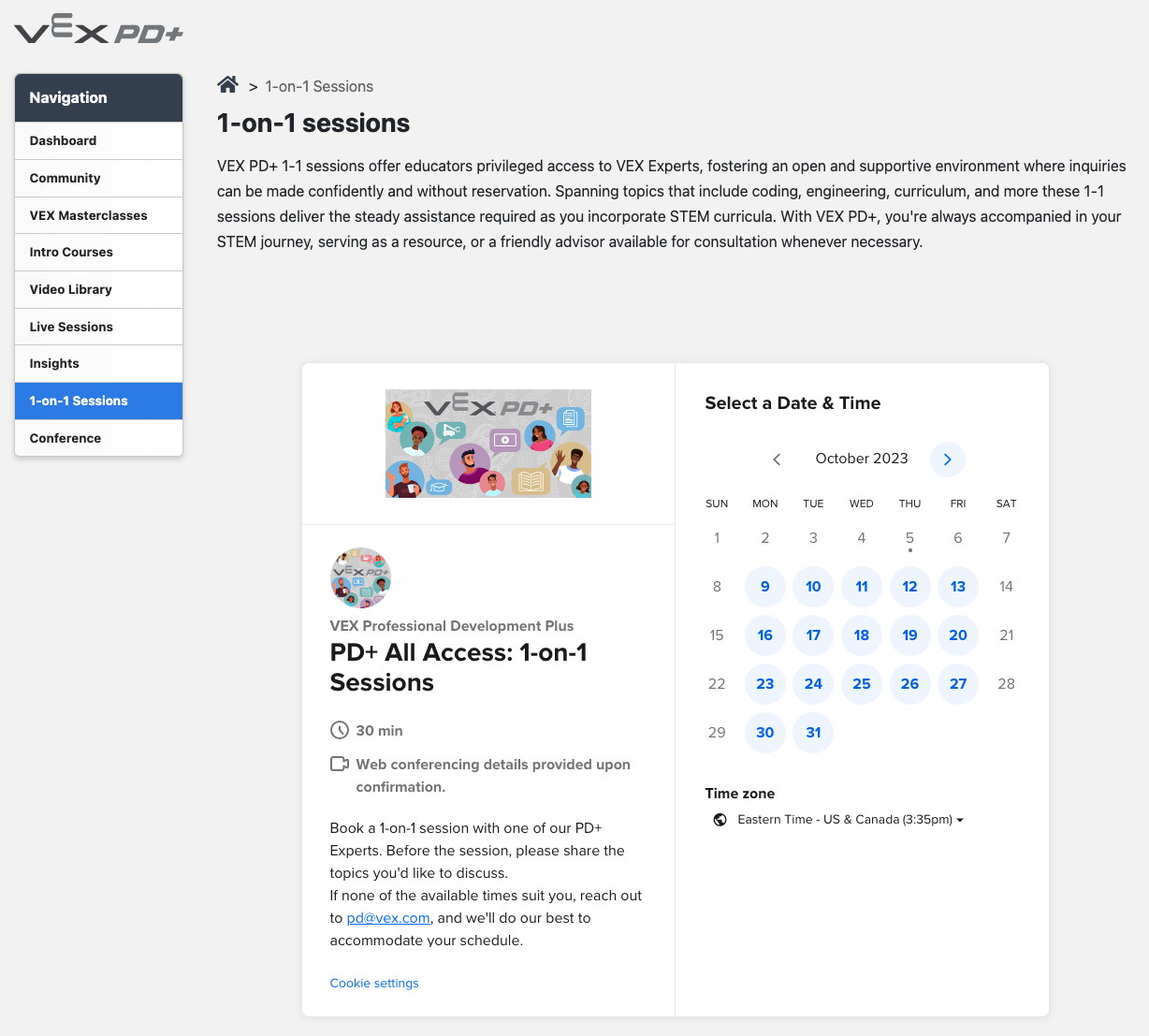 The VEX PD+ paid tier (All-Access) includes access to:
1-1 Sessions: Schedule a 1-1 session with a VEX expert, get guidance and support tailored to your needs.
VEX Masterclasses: Video-based, expert-led courses that range from introductory 'Getting Started' courses to more advanced and pedagogy focused courses.
VEX Video Library: Access to hundreds of videos across a variety of topics and VEX platforms, available anytime and from anywhere.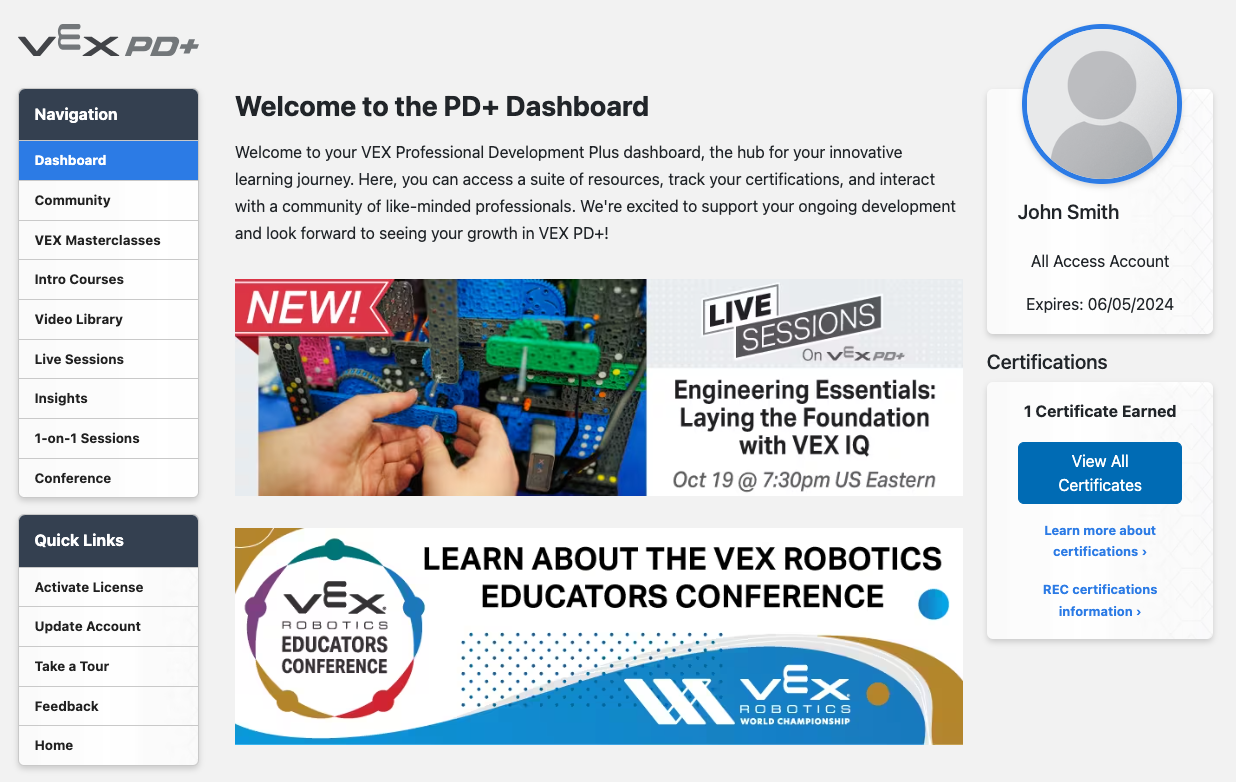 Live Sessions: Thematic, hour-long, expert-led sessions that provide insights and practical takeaways about teaching with VEX.
VEX Robotics Educators Conference: An annual conference that brings the VEX PD+ Community together for in-person, hands-on learning, inspiring keynotes, and learning sessions with VEX education experts.
Every user will also have access to their own dashboard, which includes a tour of all the VEX PD+ features, allowing them to get started easily. We are continuously updating PD+ with new materials, ensuring our platform remains a rich, dynamic resource for our educators.
We are here to support you on your professional journey. If you have any questions, or feedback, you can use the feedback tool in VEX PD+. We're excited for you to explore, learn, and connect.
---
Differentiation Made Simple
One lesson, taught three ways
The three methods of coding with VEX 123 – Touch buttons, the Coder and Coder cards, and VEXcode 123 – not only raise the ceiling of the kinds of coding that can be done with the 123 Robot, they also provide educators with great flexibility in how they teach with VEX 123. The same STEM Lab or Activity can be taught across multiple grade levels by adapting the coding method that is being used. Similarly, students within the same class can complete the same activity using the coding methods that best meet their individual needs and developmental levels.
VEX Coder and Coder Cards lend themselves to differentiated instruction
When using the VEX Coder and Coder cards with the 123 Robot, the teacher is able to control the commands that students have access to while building their projects. This flexibility gives teachers the opportunity to offer different commands to different groups in order to best meet students' needs and scaffold their learning appropriately. All students in a class can work on the same coding activity, yet use different commands to do so. Not only does this enhance students' engagement by keeping them suitably challenged, it helps them see firsthand how there can be multiple ways to solve the same problem—an important habit of mind for young learners.
Want to make the most out of the VEX Coder as a teaching tool? Read these articles to learn more:
High ceiling with VEXcode 123 
Grow your teaching and learning as your students' capacity for coding grows. Begin with Touch buttons, grow to coding with the Coder and Coder cards, then expand to coding with VEXcode 123. VEXcode 123 gives an opportunity to build upon what students have learned through device-free, tangible coding methods to a block-based platform that offers a wealth of coding opportunities and challenges. 
---
Making Learning Visible
We cannot always rely on our students to paint an accurate picture of what they are learning and doing at school to their families or those outside our classrooms. As such, it is important for teachers to show evidence of learning on their walls, in communications with families, and through artifacts that can be shared with those inside and outside the classroom. You can communicate what students are doing and learning with VEX 123 with your community quickly and easily using these built-in resources.
Letters Home foster participation
Each STEM Lab Unit Overview includes a unit-specific Letter Home that gives families a window into the activities and learning their students are doing with VEX 123 at school. The Letter Home is an editable Google Doc that can be tailored to best meet the needs of your community, making it easy for you to add or remove information, translate the letter into additional languages, and include photos or other artifacts of student learning. All Letters Home include the following sections:
Introduction - sets the stage for the STEM Lab Unit and explains the big questions that students will be exploring throughout the labs
Look Inside the VEX 123 STEM Lab Unit - explains the activities in each Lab that students will be working on with their robots to explore the topic
Vocabulary - offers general information about the purpose of vocabulary words in relation to students' learning and a list of words that are relevant to the Unit
Connection to Daily Life - explains connections between the kinds of things students are doing and learning and everyday occurrences and experiences that families can talk about and share with their students
Follow up questions to ask at home - gives families 'dinner table'-style questions that they can use to help students talk about their experiences with VEX 123 to further build the home-school connections that support their learning
Computer Science Starts Early with VEX 123 - offers a glimpse into the research-backed pedagogy that supports teaching and learning with 123
The Letter Home can be found in the Unit Overview of each STEM Lab Unit. View the video to see where the Letter Home is located within a STEM Lab Unit.
Teaching with Activities or Activity Series? This general Letter Home can be used to give families an idea of the kinds of things their students will be doing and learning.
Printables and posters show learning
VEX 123 Posters and Printables can help paint the picture of how you are engaging with robotics and computer science in your classroom. Just as we have posters for other subject areas, VEX 123 provides posters that communicate that coding is part of your learning to anyone that enters your classroom. Using a poster to anchor a learning center, as part of a VEX 123 bulletin board, or as a hallway feature gives visibility to what you are doing and can be a conversation starter for classroom visitors.
Additionally, VEX 123 Printables offer paper and pencil worksheets and manipulatives that you can use to support planning and saving of student projects. Completed printables can be saved and used as part of a student portfolio, included in parent-teacher conferences, or hung on a VEX 123 bulletin board. Having printed projects accessible for students gives them a way to revisit their own and classmates' experiences as their knowledge grows.
Check out these printables, posters, and bulletin boards ideas:
---
Pedagogy Built on a Solid Foundation
Developed by teachers for teachers, VEX 123 offers research-based and standards-aligned curricular resources backed by proven results, so that you can teach with confidence.
Grounded in educational research
All VEX 123 STEM Labs and Activities offer students opportunities to engage in active learning with an emphasis on student understanding, spatial reasoning, and inquiry-based teaching. Throughout their work with VEX 123, students work collaboratively and gain practice in social-emotional learning skills like turn taking, listening, communicating, and compromise. VEX 123 can also be used as part of existing classroom curricula to support the development of foundational literacy and mathematical thinking skills.
Aligned to standards
All VEX 123 curricular resources are aligned to standards. Not only can you see all of the standards that are aligned with VEX 123 STEM Lab units and lessons, but you can also view where and how each of those standards is met in one comprehensive document—including education standards from a variety of countries.
Pacing Guides to meet your needs
The 9 week scope and sequences offered above to help you get started just scratch the surface of the breadth and depth of curricular offerings with VEX 123! The Cumulative Pacing Guide includes all of the available STEM Labs, Activity Series, and Activities in a filterable interface that allows you to view subsets of lessons in a particular subject or coding method. You can use the Pacing Guide in tandem with education.vex.com to help you sequence lessons in a way that best suits your students' needs and interests.
Additionally, the 1:1 Pacing Guide offers alignment between VEX 123 STEM Lab Units and Activities that share common concepts. STEM Labs are listed in order from beginner to more advanced, and the connected Activities can be used in sequence to extend Lab learnings and capitalize on student engagement around a particular topic.
VEX Library offers ongoing support 
The VEX Library provides self-serve support exists to help users quickly find detailed information about all things VEX 123 in one place. From teaching with a STEM Lab to charging a battery, block tutorials to printables, the VEX Library is a wealth of resources, information, and step by step instructions to help you learn and problem solve as you are teaching with VEX 123. 
---
What's Next?
The content and resources on this page are a 'home base' for you on your teaching journey with VEX 123. This page is just an introduction, and is by no means an exhaustive list of all that is on offer within VEX 123. From here, you can continue your teaching journey on the path of your choice!
Common 123 Resources