The VEX Continuum enables educators to create a cohesive STEM learning plan for students from Kindergarten through high school, and beyond. The VEX Continuum consists of a series of VEX platforms, grounded in a continuity of resources, curriculum, and materials, so that teachers and students can build upon their STEM learning from year to year.
---
Reaching School STEM Learning Goal with the VEX Continuum
The VEX Continuum is an entire K-12 solution, designed for educators, that consists of seven VEX platforms – VEX 123, VEX GO, VEX IQ, VEX EXP, VEX V5, and VEX V5 Workcell. All of which can be augmented with VEXcode VR.

The VEX Continuum supports school-wide STEM learning goals through the educational resources provided within and across platforms. The curricular resources within the VEX Continuum enable teachers and students to build on skills and concept knowledge in intentional, targeted ways. Each of the STEM domains is addressed through curricular activities and resources, like STEM Labs, that are age appropriate, and give students an opportunity to apply their learning through more complex building and projects as they get older.
The following table shows examples of STEM learning goals, and how they are met throughout the VEX Continuum.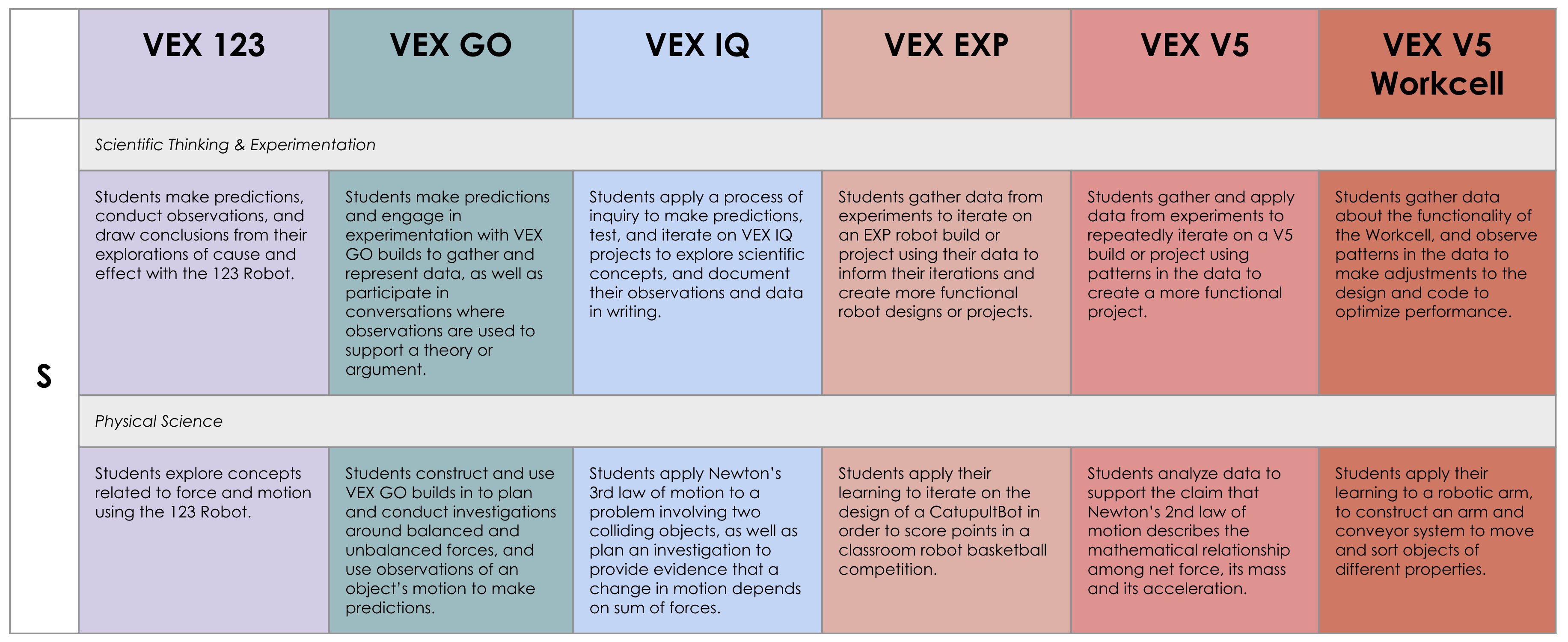 Select images to enlarge.
A variety of STEM Labs are included within each platform, offering complete plug-in units of curriculum, using VEX products, designed to meet STEM learning objectives and curricular standards. STEM Labs are like an online teacher's manual, in which all of the tools and resources needed to complete a lesson are provided.
STEM Labs Units connecting to each concept or goal identified in the chart above, are offered across the VEX Continuum. For instance, the Technology goal of "Using technology as a tool", can be accomplished with growing depth as students grow older.

Select image to enlarge.
Alternatively, an Engineering goal around building can be accomplished using each of the VEX platforms with growing complexity.

Select image to enlarge.
---
Supporting Educators with the VEX Continuum
The VEX Continuum allows educators and schools to align their STEM learning, creating a vertically and horizontally aligned curriculum, across and within grade levels. Other subject areas, like math or literacy, have a predictable progression, where educators know what concepts and foundations students have been exposed to, and can then build upon skills from year to year. The VEX Continuum brings this same concept of vertical alignment to STEM learning. Teachers and students can build on their learning from year to year, as products and curricular resources in the VEX Continuum grow with them. Students that have been using VEX 123 can progress to VEX GO in a fluid way, taking their knowledge from VEX 123 and applying it to new and exciting STEM challenges in VEX GO. Similarly, students can bring their building and coding skills from VEX GO to VEX IQ, where they can use those skills to create more complex robots, or participate in larger scale competitions. VEX EXP provides students with a first experience in building metal robots while engaging in classroom competitions designed to advance both engineering and coding skills. That accumulated knowledge can then be applied with VEX V5 in a competition setting. This continual scaffolding enables students and educators to grow together.
For educators, the VEX Continuum enables a horizontal alignment of curriculum as well, so teachers on the same grade level are teaching with common resources and materials. Rather than teaching isolated STEM lessons, educators can collaborate and share experiences, plan together, and mentor one another when they have a shared system to work from. Students also benefit, as they are having similar STEM learning experiences, and working with the same materials, no matter which class they are in, or which teacher they have.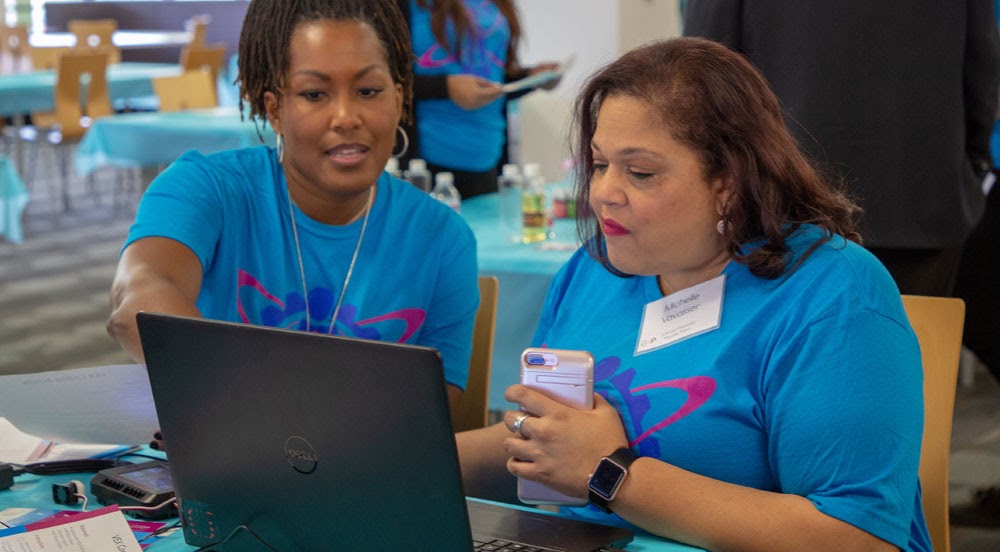 Vertical and horizontal alignment of this nature enables greater educator collaboration to take place. This then fosters the development of a Professional Learning Community among educators, where intentionality and best practices can be institutionalized and supported across grade levels, and even from school to school. Educators are essentially speaking a shared language of STEM learning, setting themselves up for shared successes and collective growth.
Once educators enter the VEX ecosystem, the continuity of resources across platforms makes it easy to plan, teach, and collaborate with others, both within and across grade levels, year after year.
Continuity of Curriculum – STEM Labs are formatted similarly across platforms, so that educators have a predictable resource to teach from. VEX 123 and VEX GO STEM Labs follow a three part form of Engage - Play - Share; VEX IQ(2nd gen) and EXP STEM labs also follow a three part form - Learn, Practice Compete. VEX IQ(1st gen) and VEX V5 STEM Labs follow a five part form of SPARK (Seek - Play - Apply - Rethink - Know).
Continuity of the STEM Library – The VEX STEM Library is the online library of all things VEX, with reference articles for troubleshooting, coding, building, and teaching across the VEX Continuum.
Continuity of Preparation – The VEX Educator Certification Program offers free, online, self-paced professional development training for each platform in the VEX Continuum. Educators engage in hands-on learning with VEX materials to complete the courses, gaining valuable experience that directly relates to what you and your students will be doing in class. VEX PD+ provides a wide array of additional professional development opportunities for each platform as well.
Continuity of VEXcode – VEXcode is consistent across VEX 123, GO, IQ, EXP and V5, and across Blocks and Text. As educators and students progress from elementary, to middle, to high school and beyond, they never have to learn a different block, code, or toolbar interface.
Whether you are a teacher returning to the same platform, or an educator changing grade levels and switching platforms, or are teaching a STEM class and using multiple platforms during the year, this continuity of resources will enable you to teach with confidence.
---
Facilitating Student Learning with the VEX Continuum
For students, the VEX Continuum enables them to learn at their own pace, placing the emphasis on the process of learning, not the product being created. Student learning is rarely linear, and as such, revisiting concepts over time is part of education. The ability to do so, and to use and reuse familiar tools, like VEX construction systems or VEXcode, enables educators to meet students where they are, and scaffold their learning accordingly. Reteaching and differentiation are made easy with VEX educator resources. Within each platform are common resources that can be used to offer extra practice, or additional challenges, so that all students can progress, and a classroom as a whole can be engaged.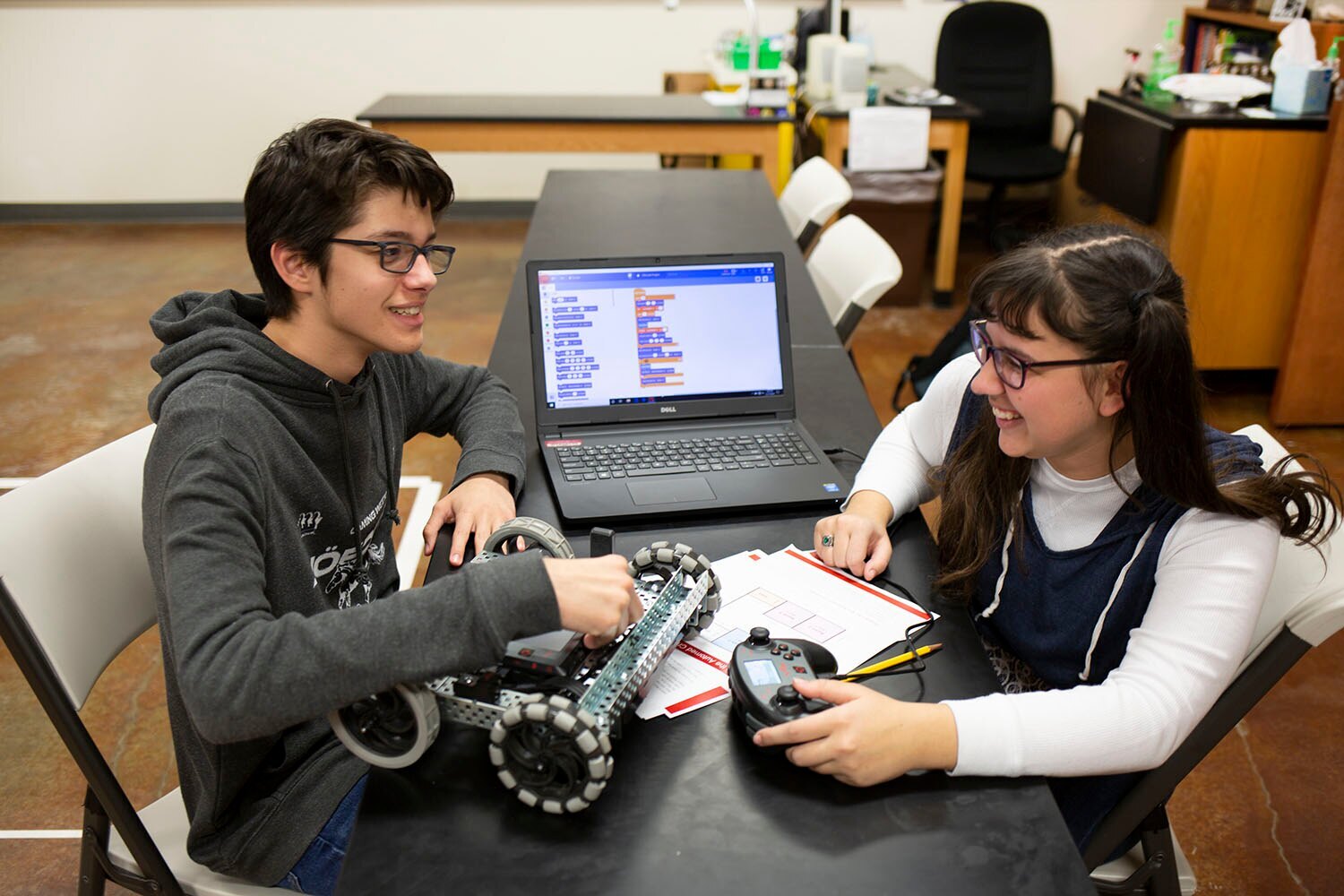 From VEX 123 through VEX V5 and Workcell, students engage with VEX materials and curriculum through collaborative learning in groups. Group work is organized in STEM Labs by dividing efforts into roles and responsibilities. For the youngest students with VEX 123, turn taking is emphasized, and strategies are offered to support teachers as they facilitate the development of "Robot Rules", and engage in group conversations with students. VEX GO scaffolds this into roles of Builder and Journalist, and offers a Robotics Roles & Routines worksheet in each STEM Lab, with guidance for organizing building tasks, turn taking during activities, and group decision making. VEX IQ continues this path, expanding to include three roles – Builder, Recorder, and Programmer – with organizational cues for each role embedded throughout the student-facing material in the STEM Labs. VEX IQ(2nd gen) and EXP STEM labs emphasize collaborative decision making throughout the labs. Suggestions for supporting student collaboration are also available for IQ and EXP in our STEM Library.
Shaping learning experiences around group work not only serves to help teachers organize their classroom effectively, but also supports the development of valuable social-emotional and 21st century skills. As students iterate on projects, make mistakes and try again, and solve problems together, they are building resilience as well as knowledge. By actively practicing turn taking, group decision making, collaborative problem solving, and engaging in meaningful discussions about projects, students learn how to work well with others, while also learning about STEM concepts. This continued practice over the course of the VEX Continuum can foster the development of a larger classroom and school culture, where mistakes are seen as learning opportunities, and students grow comfortable with iteration, questioning, and collaborative processes of learning.