VEX 123 offers a wealth of resources and curricular support to enable you to infuse Computer Science concepts into your learning space easily, creatively, and confidently. STEM Labs, Activity Series, and Activities offer varying levels of facilitation and scaffolding. They can be implemented individually or in combination to best match your teaching style and the needs and interests of your students.
---
What STEM Labs, Activity Series, and Activities Are
The VEX 123 platform contains educational resources to support the incorporation of meaningful learning experiences into your existing curriculum. There are three main resources – STEM Labs, Activity Series, and Activities – that can be used in conjunction with one another, or as individual engagements.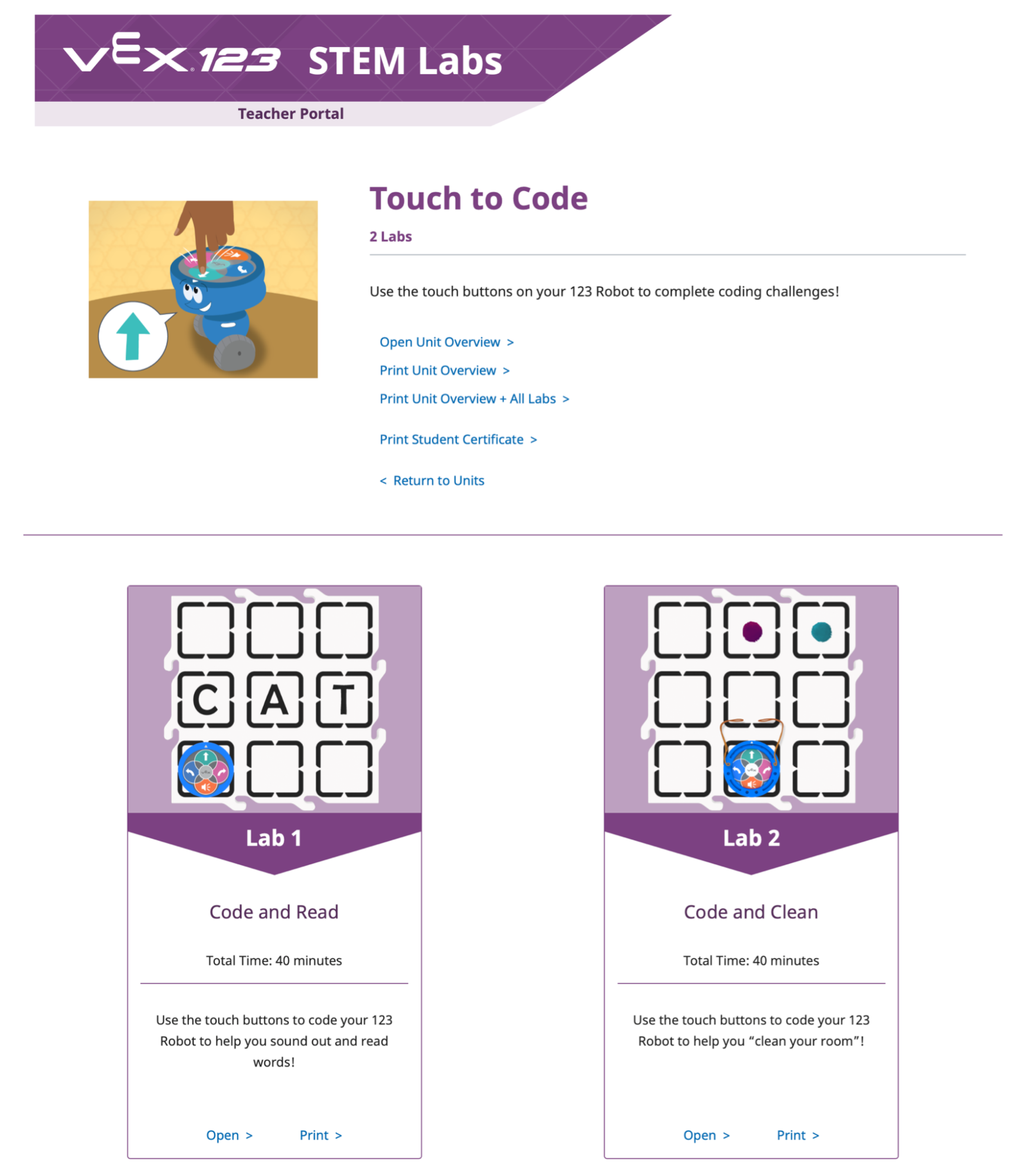 VEX 123 STEM Labs function as "plugin" lessons that can fit into your existing curriculum. Multiple STEM Labs can be used in sequential order to create a unique, extended learning experience for your students. You can also use a STEM Lab Unit that ties into what you are learning, to infuse Computer Science concepts into your learning experiences.
To learn more about implementing VEX 123 STEM Labs, see this VEX Library article.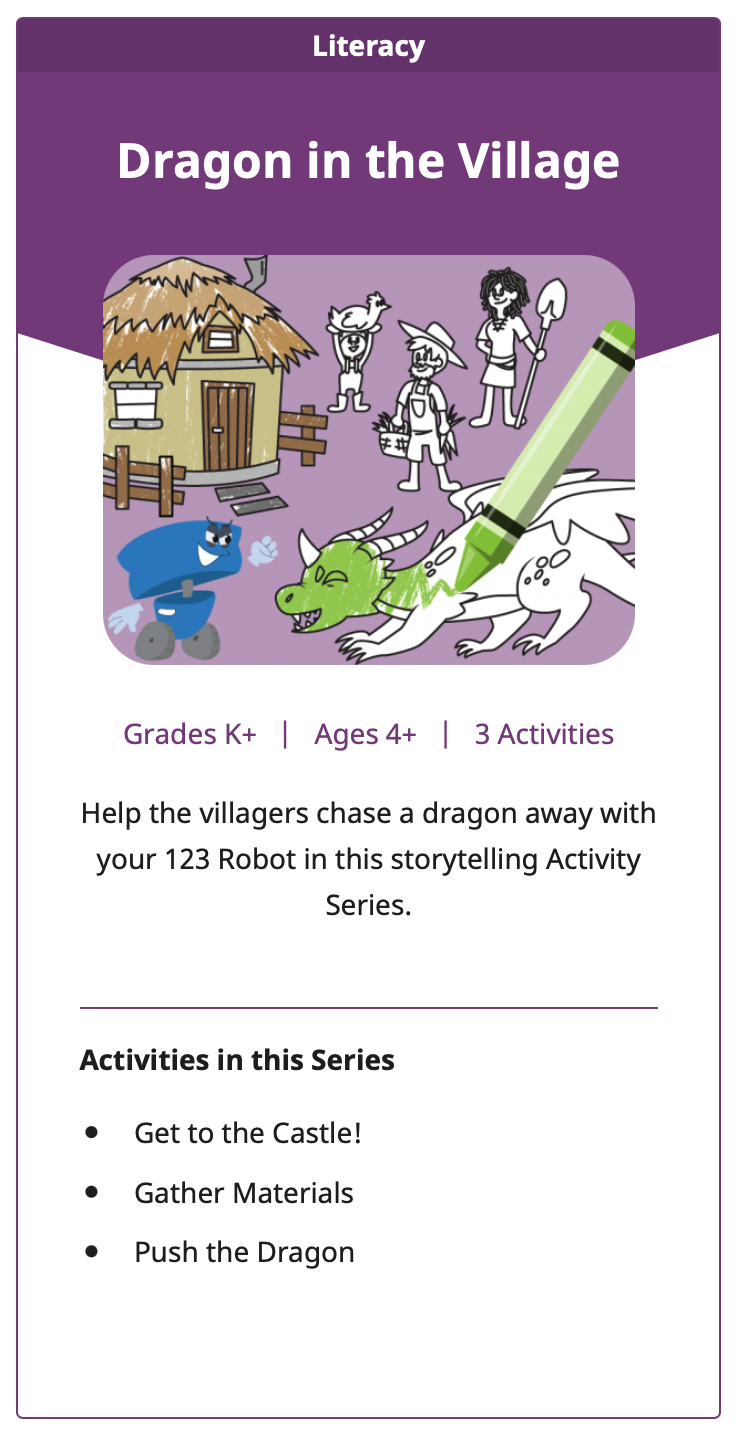 ---
Choosing and Using These Resources Effectively
As you are looking for ways to incorporate VEX 123 into your curriculum, consider the level of facilitation and scaffolding that you and your students need in order to be successful. All VEX 123 resources can be used flexibly, and adapted to suit your teaching style, comfort level with coding and Computer Science, and your students' needs. However, each offering has a different level of teacher involvement embedded into it.
For a more step-by-step, guided lesson experience, STEM Labs are like your online teacher's manual. Similar to a printed teacher's manual, the teacher-facing content of the STEM Labs provides all of the resources, materials, and information needed to be able to plan, teach, and assess with VEX 123. Students see the Lab Image Slideshows as their teacher facilitates the Lab, while the teacher has all the discussion prompts, activity steps, and facilitation strategies at their fingertips. STEM Labs are an ideal way to build student engagement and establish best practices in your classroom for using VEX 123 together.
Once your students are comfortable using and taking care of their 123 Robots and materials, 123 Activities are a great way to give students the opportunity for more independent exploration. As student-facing documents, Activities do not require much teacher facilitation. Activities fit well in a Learning Center, as an extension activity for a STEM Lab, or as a Choice Time activity for students to practice a variety of skills with VEX 123.
Activity Series sequence multiple Activities, with some teacher facilitation notes and contextualization, to offer a flexible lesson that can easily be used in a variety of settings. Activity Series give teachers a narrative from which to base their lesson, and gives students the opportunity to bring that narrative to life using their 123 Robots. Activity Series can work well as shorter lesson engagements, but do not have a time frame associated with them. They can also be easily stretched to create a more immersive experience by drawing on the use of the 123 Field and Art Ring. These engagements can help to bring students' and teacher's creativity to their coding projects.
STEM Labs, Activity Series, and Activities can be used separately or in conjunction with one another, to infuse Computer Science concepts and practices into your curriculum. The Pacing Guides in each STEM Lab identify strategies to support implementation and reteaching, including connections between the Lab content and Activities. For more information on using the Pacing Guide in a STEM Lab, see this VEX Library article.
Additionally, the 123 Cumulative Pacing Guide, and the 1:1 Pacing Guide show recommendations for sequencing, and connections between different resources, to help you see at a glance how the 123 resources fit together.
VEX Camps
VEX Camps sequence STEM Lab Units, Activity Series, and Activities into ready-made camp programs for 1, 3, or 5-day camps. VEX Camps, available at camps.vex.com, offers all you need to get up and running with your own camp. Camps can be offered all year round, from fall fundraisers to winter break offerings to a summer enrichment program. Everything you need to run a VEX Camp from camp manuals, template schedules, sample flyers, and welcome letters are all available to help take the guesswork out of planning and running a camp.
VEX 123 Camps are tailored to young students. Each schedule is based around a half-day camp and specific support for facilitating conversations and activities with young students is provided in the template camp manual.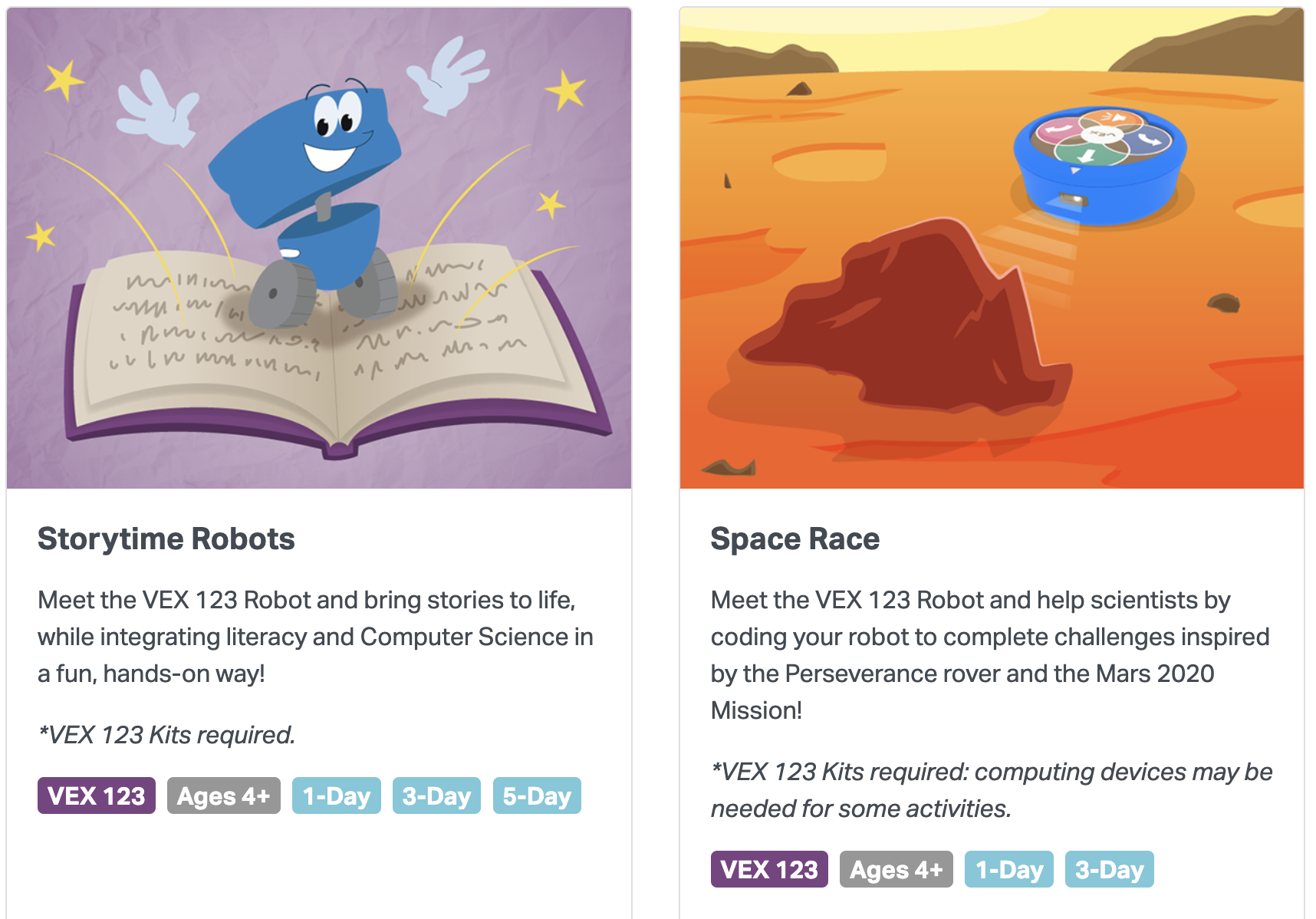 ---
Tying It All Together – Charlie's Story
Charlie has been teaching Kindergarten for several years, and has become increasingly interested in ways to incorporate more Computer Science concepts into his curriculum. He has seen a growing interest in his students, and a natural curiosity and affinity for robots and technology, but his school does not have devices available for Kindergarten. Charlie was delighted when he learned about VEX 123, seeing it as the perfect opportunity to infuse Computer Science into his classroom, without needing student devices. As a bit of a coding and Computer Science amateur himself, he was especially glad to see the curricular resources available for him to use.
Charlie introduced VEX 123 to his students with the Meet Your Robot STEM Lab Unit. His class immediately connected with the 123 Robot as he shared the story with them, and he used the STEM Lab activities and facilitation strategies to help his students learn how to use and take care of their 123 materials in the classroom.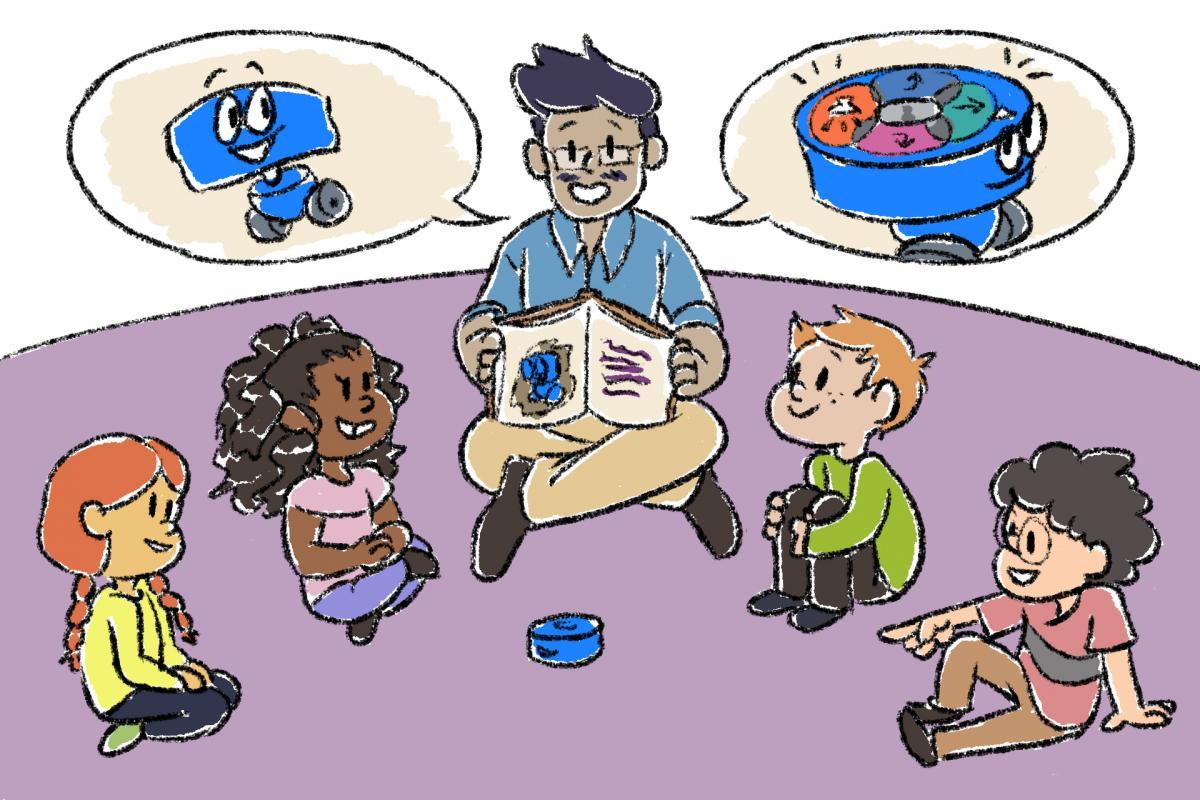 His students couldn't wait to test out the 123 Robots, so Charlie then taught the Touch to Code STEM Lab Unit over several days, to enable his class to get comfortable coding and using the 123 Robots through fun and engaging challenges. The content of the STEM Labs also tied in well to his literacy curriculum, as he was working on sequencing and decoding simple words to read and write them. At this point, his students were confidently able to use their 123 Robots with growing independence, so Charlie could then add the Activities connected to the STEM Lab to a Learning Center, and offered this as a Choice Time and early morning engagement.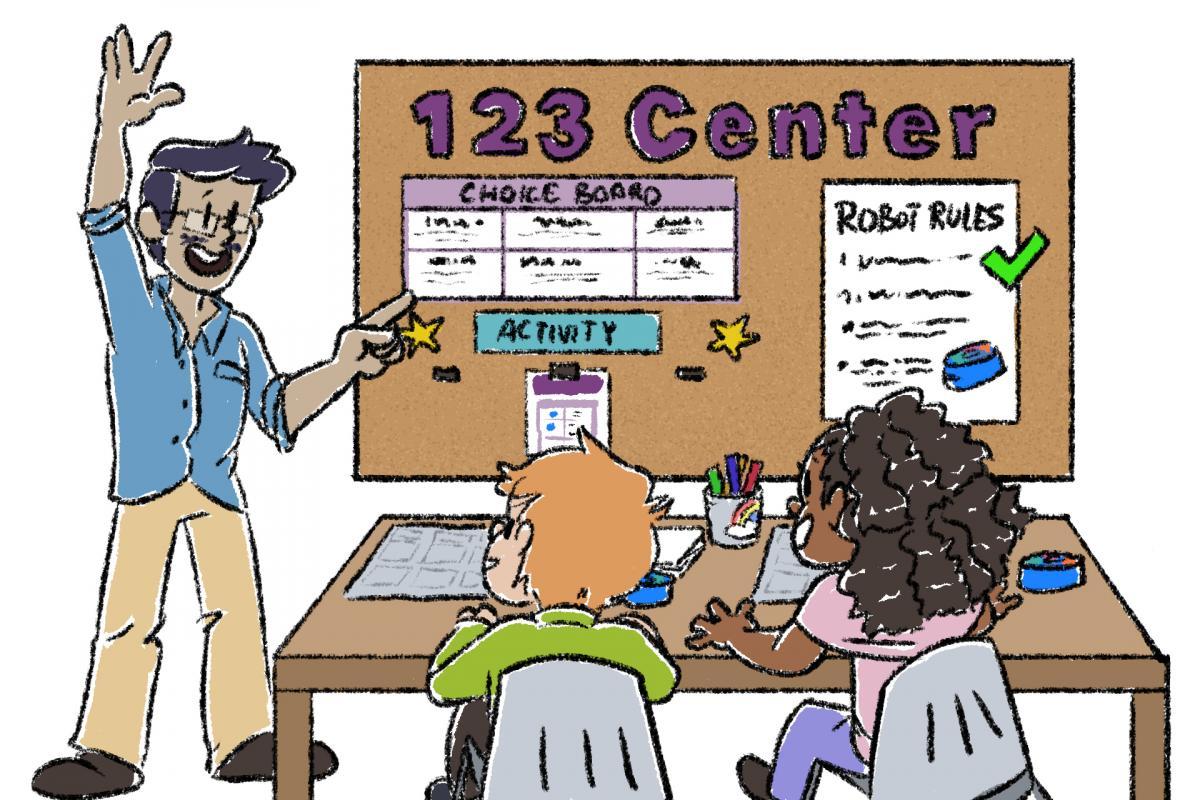 As Charlie's students were learning to read and write simple sentences, storytelling was becoming a bigger part of their literacy time in the classroom. Charlie saw the Dragon in the Village Activity Series, and knew this would be a perfect blend of coding and storytelling for his class! He added written components to each Activity, to enable his students to practice their written skills, to label scenes or projects to describe the plot or character in the story. His students enjoyed being able to create their own characters with the Art Ring, and he found himself thinking about reusing the Activity series with students' own stories as they gained writing practice throughout the school year.