The VIQC Pitching In Playground within VEXcode VR is a virtual version of the 2021-2022 VEX IQ Competition (VIQC) Pitching In. It uses a virtual version of the VEX IQ Hero Bot, Fling, with added sensors for autonomous coding in VEXcode VR.
To get started, learn about the ways to score points using the VIQC Pitching In lessons. Then for added challenges, learn more about Fling and other details about the Field so you can strategize and get a high score.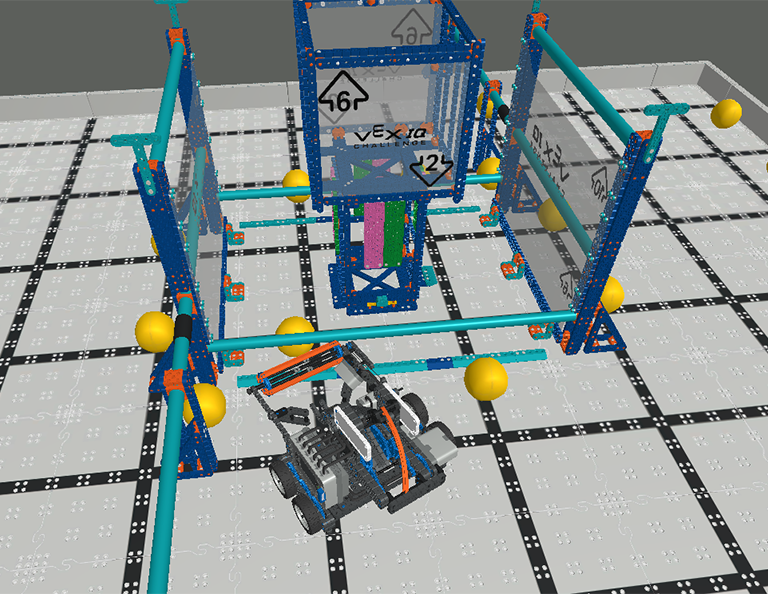 ---
Learn about Ways to Score in Pitching In
Excited to play VIQC Pitching In, but unsure where to start? We're here to help you learn about VEXcode VR and the game, with the VIQC Pitching In lessons.
---
Get Familiar with Pitching In in VEXcode VR
Ready to apply your coding skills and VEXcode VR knowledge to play Pitching In? We have resources to help you get acclimated to the Pitching In experience in VEXcode VR, so you can get started practicing and competing!
Get familiar with the Playground Window in VEXcode VR and its features, like starting locations and camera angles, so you can strategize your gameplay. Learn more in this article.

Note that starting locations change with each year's game, so you may have different options than shown in the article images.

Check out Fling, Pitching In's Hero Bot, and all of its motors, sensors, and features, so you can code the robot to score in different ways. Learn more about the robot's features in this article.
Curious about the dimensions and features of the VIQC Field? Learn more about the VIQC Field in this article, so you can get started planning your project.
---
Looking for more?
Need help planning and building projects more efficiently? Check out these tips for applying estimation to score more points here.
Looking for more coding tips and tricks to maximize your score in Pitching In? See this page in the VIQC Pitching In Lessons for additional coding tips.
Want to learn more about how to score in Pitching In and see coding examples in action? The VIQC Pitching In Lessons have exploration activities for scoring a Low Goal, a High Goal, launching Balls with the Catapult Arm, and even triggering a low hang for additional points! Click here to view the Lessons.
Want to learn more advanced coding to help you beat your high score? VEXcode is used with all VEX Robotics platforms. Check out the Computer Science Level 1 - Blocks course and learn more about coding with VEXcode!