A VEXcode IQ project for use with VEX IQ Challenge (VIQC) Virtual Skills can be loaded and saved in the following ways:
---
Load an Existing Project
Open an existing project by selecting "Load From Your Device" from the File menu.
Use the macOS interface to navigate and open your existing project with a .iqblocksskills file extension.
---
Open an Example Project
Open an example project by selecting "Open Examples" from the File menu.
---
Rename a Project
To rename a project, select the project name box.
Enter the project name, and select "Rename."
---
Save Using the File Menu
Open the File menu and select "Save To Your Device."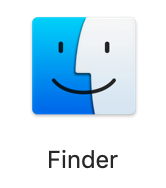 The file will download. Select and open "Finder."
In the Downloads folder, you'll see a file with a .iqblocksskills extension. This means your project has been successfully saved.
---
Common Issue when Loading/Saving
A common issue when using VEXcode IQ project files (.iqblocksskills) is trying to select the .iqblocksskills file to be opened directly by the operating system.
If you try to open a VEXcode IQ project file (.iqblocksskills) by double-clicking it, it will show this error message.

All VEXcode IQ project files (.iqblocksskills) can ONLY be opened within the web-based version of VEXcode IQ. See the 'Load an Existing Project' section from this article for more information.