Research1 is clear that active learning is an effective way to narrow the achievement gap in schools. It is also clear that implementing active learning can be challenging2, and teachers and schools need to be provided with support. VEX Robotics has created STEM Labs so teachers, no matter their experience level, can successfully implement active learning through high-quality STEM materials and lessons.
STEM Labs function as "plugin" lessons that can fit into your existing curriculum. You can also utilize multiple labs in sequential order to create a unique, extended learning experience for your students. The labs are designed to promote collaboration and exploratory learning. Students enjoy hands-on-learning activities that allow them to apply technology, science, math, and engineering skills as they enjoy a 21st-century learning experience. Our commitment to providing teachers and schools with the support they need to implement STEM education is one of the reasons why our educational materials are used by millions of students around the world and are found in well over 17,500 educational institutions.
STEM Labs
With more schools adopting educational robotics as a platform to teach STEM and Computer Science skills, educators need a solution to seamlessly integrate curriculum, programming software, and hardware into the classroom. For many, figuring out how to implement educational robotics concepts can be difficult. Each STEM Lab includes simple-to-follow instructions that allow for easy implementation with minimal preparation time. Every STEM Lab has multiple approaches to solving a problem, allowing students to experiment with creative design solutions. Each STEM Lab includes structured lessons with a low barrier of entry for students, engaging activities with real-world connections, teacher materials for a stress-free implementation, and alignment to core skill and concept standards.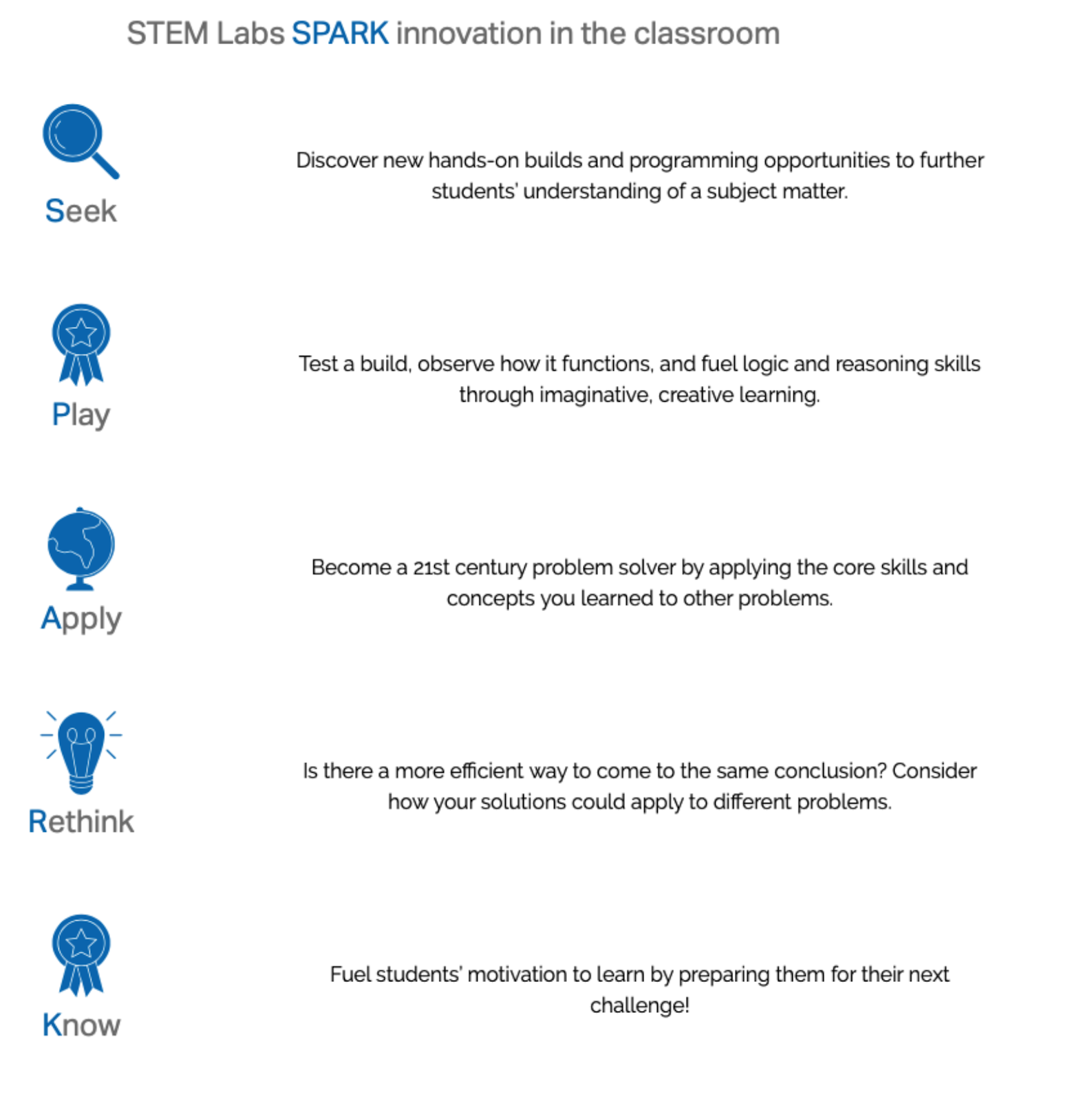 The left image shows the STEM Labs follow a sequence of learning experiences.
Each STEM Lab is built upon a strong foundation of educational research.
STEM Labs Teacher Portal
"The greatest impact on learning is the daily lived experiences of students in classrooms, and that is determined much more by how teachers teach than by what they teach."7 Dylan Wiliam
Because STEM is not just a discipline but also a pedagogy8, giving teachers the necessary support materials is just as important as providing them with the lessons. The STEM Labs Teacher Portal provides the structure and support that teachers are accustomed to receiving in their core classes. Teachers get a degree in math but still are giving a teacher's manual to accompany their math curriculum. Teachers of STEM, many of whom do not have a degree in STEM or a STEM field, are not given anything resembling a teacher's manual. The Teacher Portal offers tools to help teachers plan, teach and assess.
A key feature found in the Teacher Portal is the integrated teacher notes. These teacher notes help teachers respond to student needs while also providing step by step guidance on what, how, and when to teach.
Teacher Notes & Rubrics

One potential challenge of teaching robotics is how to organize students while they are building their robot. The integrated teacher notes provide ways that the students can be organized, ensuring that each student has a role to play during the building of the robot. These roles also correspond with the build instructions, once again making sure that each student is involved. This organization also carries over into the open-ended challenges within each STEM Lab. Here, teacher notes are provided to help provide structure for how the students are to be organized. Unfortunately, group work in school can become one person working while the rest watch. These teacher notes help the teacher to prevent this from happening.
Additionally, whether building a robot or working collaboratively, editable rubrics are provided to help the teacher with assessments.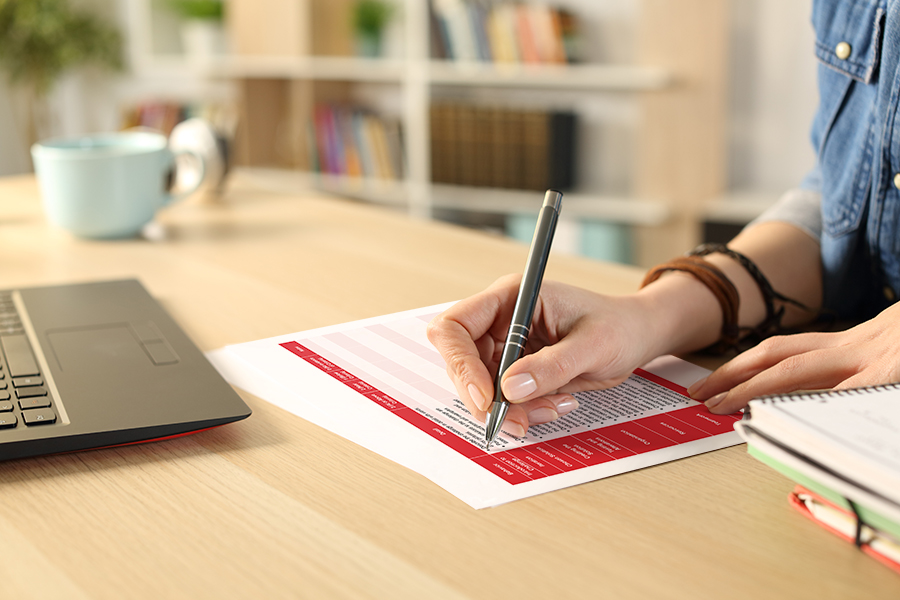 The building blocks for student content and skills mastery are the Play and Rethink sections of each STEM Lab. Research shows that students benefit from direct, systematic, and explicit instruction when encountering new information. If a teacher is unclear about concepts, then it is almost impossible for the students to be successful. Therefore, the teacher notes front-load background information for teachers and further suggests ways for teachers to improve student comprehension and check for their understanding.
There are many different types of teacher notes to help guide instruction:
Teacher Tips – brief instructions that provide support by providing extra context, information, and/or guidance.
Teacher Toolbox – extra tools that a teacher could find helpful when implementing a STEM Lab. These include resources, links, summaries, answers, etc.
Extend Your Learning – suggestions for activities that enable teachers to facilitate the transfer of knowledge and/or skills to a new domain (e.g. math, science, literacy). These can also help differentiate instruction for students that complete activities at different time intervals.
Motivate Discussion – discussion questions and answers that provide guidance and support as teachers check student understandings as students explain, reflect, and elaborate on what they learned.
Teachers are being asked to do more every single day. Most teachers feel that a major part of their job is cultivating a strong, personal relationship with their students. Kids often don't learn9 from teachers they don't like. But for a moment, think about how difficult that really is. While important, this is only the first step. Teachers also have to consider hundreds of decisions made daily about how best to tailor their instruction to the individual needs of each student. When considering all of this, it is important to also consider whether it is fair to also ask teachers to create their own instructional materials. Teachers should be spending the majority of their time on high-value activities. These include developing those relationships with their students, communicating all of the great things going on in their classroom with parents and the community, collaborating with peers, and just taking some time for yourself, so that you can end the school year with the same enthusiasm that you started the year with.
Great teaching is not the same thing as great instructional designing. It is very difficult, if not impossible, to do both at the same time. At VEX, we firmly believe that teachers need great instructional materials, and we work very hard to provide them with those materials. Visit our STEM Labs and select the Teacher Portal to learn more.
---