Ordering via Purchase Order
Purchase Orders are one of many ways to place an order with VEX Robotics. For a full list please visit the How to Order Page.
Below is an example of an acceptable PO. Please feel free to download this example as a reference. Any POs with incorrect or incomplete information will not be accepted until revisions are made. There are no exceptions to this rule. If you have any questions or concerns, please contact VEX Customer Service by emailing eusales@vex.com or calling 01925 251038.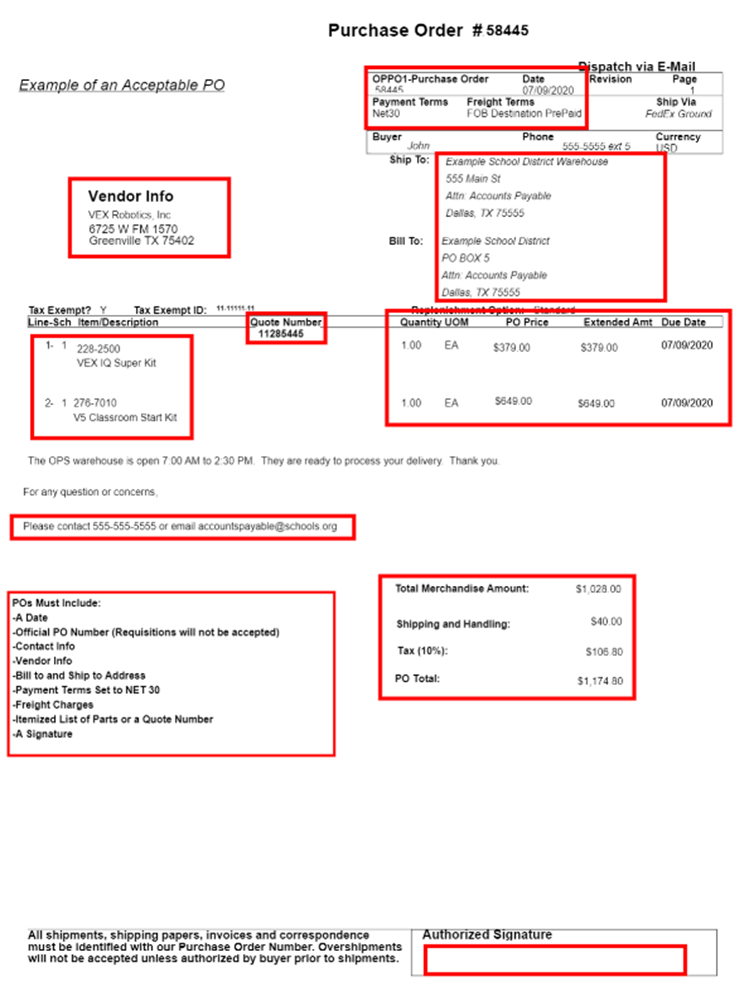 The following are required on ALL Purchase Orders:
Purchase Order Number

All orders must have a PO number clearly referenced. Please note that "Requisition Numbers" will not be accepted.

Innovation First Trading SARL
c/o 6 Melford Court
Hardwick Grange
Warrington
WA1 4RZ
Supplier Information

The correct supplier information must be on the PO. Missing or incomplete vendor info will need to be revised before acceptance.

Invoice Information

Invoice information must be included on your PO. Be sure to include an address, email, and phone number for any invoice inquiries.

Shipping Information

A Shipping Address is required, even if the shipping will be the same as the billing address. Please be sure to include any additional information such as the person that the shipment should be marked for the attention of, campus or site, delivery location, etc.

Delivery Date

VEX Robotics ships out all orders as soon as all in stock products are available. This means your order will usually ship within 24 business hours of being processed. If someone will not be available for the delivery or another ship/delivery date is requested, please contact us prior to placing your order and include the delivery date on your order.

Payment Terms

All Purchase Orders received will by default be subject to NET 30 Terms and must be written on your PO. If you require different payment terms, please contact Customer Service.

Itemized List of Parts

Each Line Item should include a Part Number, Quantity, and Price per Unit. If parts are not listed, then a Quote Number should be clearly referenced in the body of the PO. Quotes can be generated directly from our website. If you need to generate a quote, please visit our How to Order page.

Financial Shipping Responsibilities

Any shipping charges must be added to the PO. Please note that shipping is subject to VAT. If you have a shipping account you would like us to charge, please contact Customer Service and include the information on your PO.

Grand Total

A total that includes item totals, shipping and tax will need to be added to your PO. We charge for shipping and VAT will also be added to shipping charges. If you are exempt from VAT, please contact us to discuss.
---
Shipping Policies/Timelines
Orders of in stock products placed before 15:00 will ship on the same business day
Orders placed after 15:00 may be processed and shipped on the next business day
Online ordering is provided for convenience. Physically large orders may require special shipping considerations – please contact Customer Services to discuss physically large or bulky shipments by emailing eusales@vex.com or calling 01925 251038
VEX Robotics ships UK orders via UPS. Contact Customer Services to discuss other shipping options such as:

Palletised deliveries
Shipping via your own courier account
In-person collection from our Warrington warehouse

Claims for shipping shortages, errors, or defective products must be in writing and received by VEX Robotics within ten (10) days after receipt of shipment by buyer. Failure to make such claim within the stated period shall constitute an irrevocable acceptance of the goods and an admission that they fully comply with all the terms and conditions of the buyer's order.
Note: We do not offer partial shipping for orders containing backordered items. If you require in-stock items urgently, we recommend placing a separate order for the backordered items.
EAR Registration: 43/762/01398
Information obligations pursuant to Section 18 (2) of the Electrical and Electronic Equipment Act.
---
Products at Wholesale or Discount
VEX products are already priced for education. Therefore, we do not offer any sort of wholesale/school/business/military discounts.
---
Payment Methods
VEX Robotics accepts Visa, Mastercard, and Maestro card payments. We also accept Paypal for online orders.
Purchase orders are accepted with Net30 day terms for schools, colleges and universities. Please contact Customer Services to enable purchase order payments on your account. If you are a company, please contact us to apply for credit terms by emailing eusales@vex.com or calling 01925 251038.
---
Warranty Policy
VEX Robotics warrants our products to be free from defects in manufacturing, materials, and workmanship for the period outlined in the relevant legislation.
This warranty covers normal use as described in the product documentation and within the limits as specified in any applicable data sheets.
This warranty does not cover abuse, misuse, incorrect wiring, alterations, connector damage, or robot competition damage.
---
Return Policy
Unwanted item returns
Simply confirm you wish to return your unwanted item within 14 days of receipt via email to eusales@vexrobotics.com. It needs to be returned unused, unopened, in its original condition and packaging. Your return must be in a re-sellable condition for a full refund and must be received within 14 days of the return being accepted. Standard Shipping will be refunded from the original order, for more expensive deliveries the buyer will be liable for the difference.
You will be liable for the cost of returning the goods to us and must ensure that they are returned in protective packaging. We recommend using a tracked service when returning unwanted items. Where an item is damaged or returned otherwise than as per our stated requirements above, we reserve the right to refuse redress or offer a reduced refund.
All returns must be accompanied by a valid VEX Robotics order number.
Damaged or Faulty Items
We strive to ensure all your purchases reach you in perfect condition. If you receive a delivery and the item or packaging has been damaged please ensure it is signed for as "damaged/unchecked" or if that is not possible, refuse the delivery. Please contact us via eusales@vexrobotics.com within 48 hours of receipt of the delivery to advise us of the damage.
We must be notified of any discrepancies with the delivery within 48 hours of receipt. Please contact us via eusales@vexrobotics.com with your VEX Robotics order number and details of the discrepancy.
In the unlikely event that you receive a faulty item, you may return this item to us in accordance with your statutory rights and as covered by our Warranty Policy.