At VEX Robotics, we make it easy to get started teaching with VEX GO STEM Labs. VEX GO is a construction system that teaches students the fundamentals of STEM through collaborative, hands-on activities. VEX GO STEM Labs are supplemental educational resources that support teachers with free, easy to follow STEM lessons and activities that align with educational standards.
---
What is a STEM Lab?
STEM Labs function as "plugin" lessons that can fit into your existing curriculum. You can also utilize multiple Labs in sequential order to create a unique, extended learning experience for your students. GO STEM Lab Units and lessons are aligned with standards from NGSS, CSTA, ISTE, and Common Core Math/ELA. STEM Labs can be adapted in various ways to fit into any classroom or learning environment.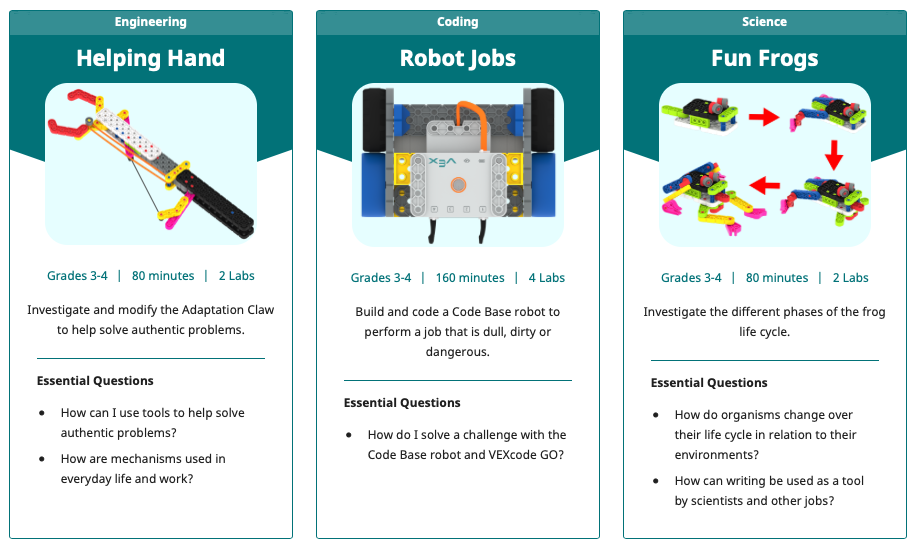 STEM Labs are organized by Units, and each Unit contains one or more Labs.
Each STEM Lab can be completed in as little as 40 minutes and includes the following three sections: Engage, Play, and Share (optional).
---
How do I implement STEM Labs?
STEM Lab Units provide hands-on, minds-on engagement that encourages students to design creative solutions and innovate through experimentation. Every STEM Lab has a common structure that should make it easy to find what you need.
Engage
This is the "whole class" portion of the Lab where students are introduced to the STEM concepts with a "Hook," and complete a hands-on building experience.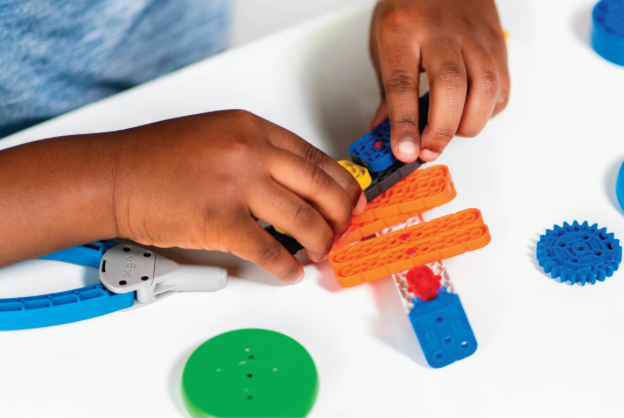 The introduction is mapped out for you with the Asks & Acts section. Here you can see step by step what the teacher will do, and what the students will do, taking the guesswork out of how to connect STEM concepts to authentic situations that students will be familiar with.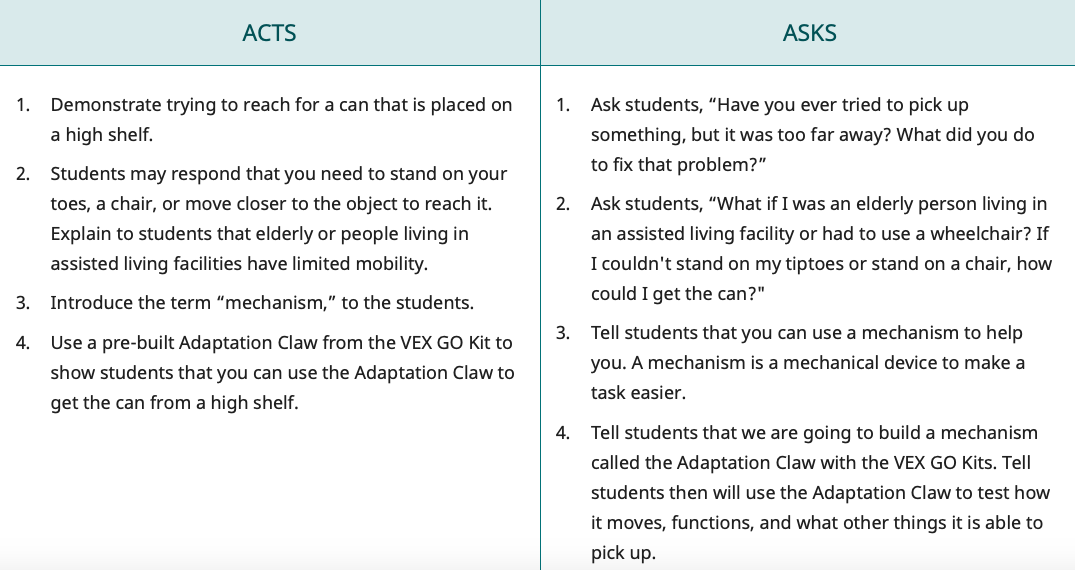 Use the "Facilitate the Build" section to guide students through the construction and experimentation of builds with the VEX GO Kit. Get suggestions from experienced teachers on how to implement the STEM Lab in your classroom with the "Teacher Troubleshooting" and "Facilitation Strategies" sections.

Play
The Play section will guide you through the process of introducing and facilitating activities that provoke STEM thinking, build teamwork, and spark creative problem-solving.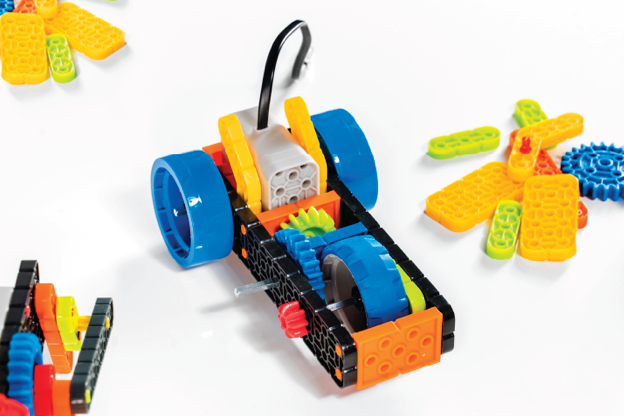 The Play section is broken up into two parts (Play Part 1 and Play Part 2) with a Mid-Play Break in between where students have a chance to show their learning, and teachers can check for understanding.
In Play Part 1, activities are introduced through guided practice. Often the students are following along with the teacher, then have an opportunity to practice independently.
In the Mid-Play Break, the teacher and students come together to share their learning, ask questions, and check for understanding.
In Play Part 2, students work with their groups to expand on the activities in Play Part 1 to build a deeper understanding of STEM concepts and apply creative solutions to challenges.
The Play sections have a consistent organization around the following verbs to make it easy to follow along and focus on facilitating an engaging experience for your students.
Instruct - introduce the activities and establish a shared goal.
Model - gives teacher tips on how to make the learning visible.
Facilitate - provides discussion prompts to provoke discussion around the goals of the activity, and encourage students to think spatially.
Remind - includes prompts to remind students that trial and error is a part of learning.
Ask - prompts are given to develop a growth mindset ("Did something go wrong? Great! How can you use this mistake to improve your design?")
Share
Students make their learning visible through demonstrations and discussions in the Share section. We provide prompts for demonstrations and discussions focused on three areas: Observing, Predicting, Collaborating.
View this Implementation Guide to see how quickly and easily you can begin teaching a STEM Lab. The Implementation Guide gives you step by step guidance on how to get started teaching STEM in your classroom.
---
What materials are provided in the STEM Labs?
STEM Labs are teacher-facing resources that provide you with everything you need to facilitate STEM Labs with students. Additional materials are provided in the "Materials Needed" section of each Lab with links to editable Google documents and slideshows that are student-facing and can be shared with students digitally or printed out and distributed.
Use the Robotics Roles & Routines to facilitate students' organization and collaboration. The Robotics Roles & Routines sheet, in conjunction with the "Suggested Role Responsibilities" slide in the Lab slideshow offers guidance for group work. See the Using Robotics Roles & Routines to Support Group Work with VEX GO article for more information about how to use this tool with students.
Also, see the Teacher Resources section on the GO STEM Lab home page for more detailed information on planning and implementing STEM Labs in your classroom.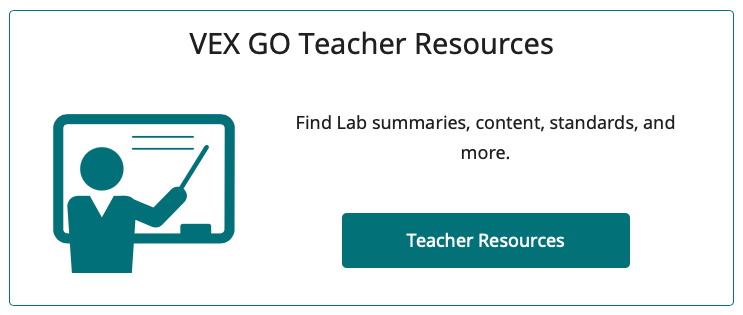 Additionally, see the Teacher Resources in STEM Labs article to learn more about the instructional supports included in each STEM Lab including visual aides and an editable Letter Home to share with student families.