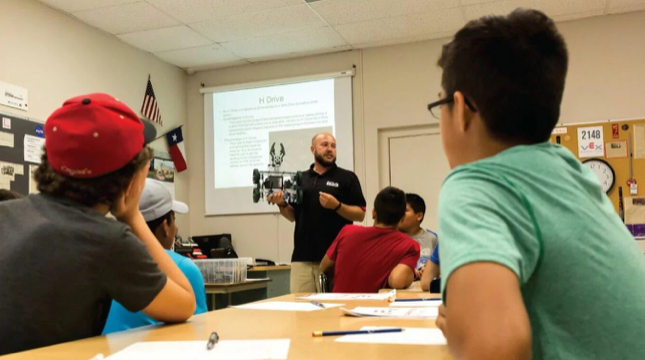 The following article addresses common questions for teaching with VEX V5. Select the links below for resources that will help you with planning and implementing VEX V5 STEM Labs in your classroom.
Where do I get lessons for VEX V5?
You can find a complete list of VEX V5 STEM Labs on the VEX website.
What resources are available to teachers for implementing STEM Labs?
The following article is a guide to using and implementing STEM Labs in the classroom with a breakdown of vital STEM Lab resources at your fingertips.
See the following link for instructions on how to access the Teacher Portal. Through the Teacher Portal, you will have access to the Teacher versions of the STEM Labs which include additional information and helpful hints for implementing VEX V5 STEM Labs in the classroom. You will need to create an account and log in to access the Teacher Portal.
How do I organize VEX V5 STEM Lab lessons?
Organize STEM Labs based on your preferences or needs with the VEX V5 Cumulative Pacing Guide. This pacing guide offers suggestions for 6, 9, 12, and 18-week sessions that progress from beginner to intermediate levels, and offers variations on engineering-focused or coding-focused instruction sequences. See this example of our 6-week pacing guide.

How do VEX V5 STEM Labs align with standards?
See a complete list of aligned standards for each VEX V5 STEM Lab in our VEX V5 Content Standards guide that includes NGSS, ISTE, STL, CSTA, CCSS Math, and CCSS ELA standards. Additionally, the VEX V5 STEM Lab Where Standards are Reached resource identifies where and how the standards are addressed in each STEM Lab.
Where do I get help for VEX V5?
The VEX STEM Library is a library of articles in which you can quickly find information about VEX V5 products, services, and support content.
VEX Professional Development Plus (PD+)
VEX Robotics offers comprehensive professional development resources available on pd.vex.com. VEX's Professional Development Plus (PD+) platform is your destination for a wealth of resources designed to empower educators in the world of STEM. The VEX PD+ platform offers two tiers - a free tier and an All-Access paid tier.
VEX PD+ free tier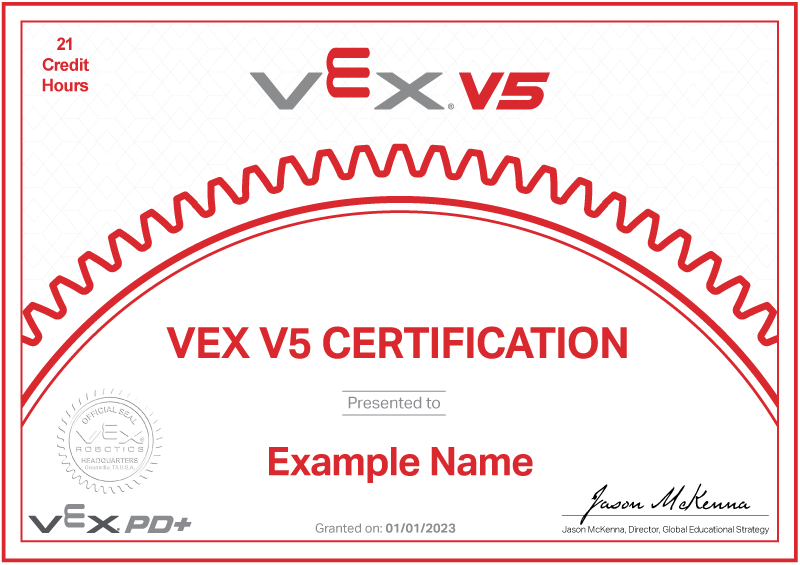 The VEX PD+ free tier includes access to:
Introductory Certification Courses: These self-paced online courses provide training on each VEX platform. Each course contains formative assessment and tracks your progress, making it easy for you to check your understanding and complete the course at your own pace. Once you become certified, you gain access to the VEX Professional Learning Community (PLC).
Professional Learning Community (PLC): Join a network of global educators and VEX Experts, where you can learn, share, and benefit from a wealth of shared experiences. This is your virtual Teacher's Lounge, where you can have meaningful dialogue, share expertise, ask questions, and work collaboratively to improve your STEM teaching and learning.
VEX PD+ paid tier (All-Access)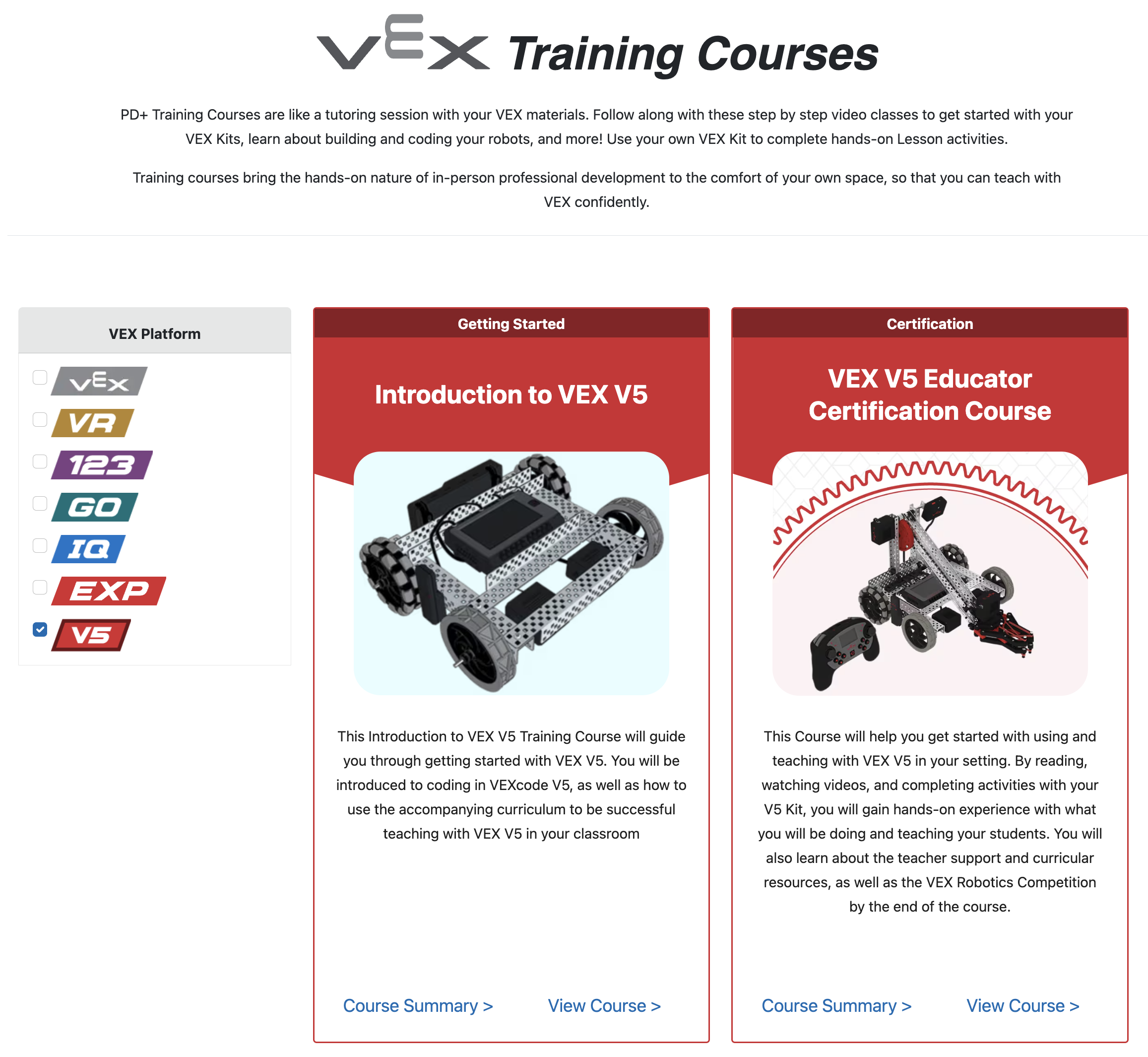 The VEX PD+ paid tier (All-Access) includes access to:
1-1 Sessions: Schedule a 1-1 session with a VEX expert, get guidance and support tailored to your needs.
Training Courses: Video-based, expert-led courses that range from introductory 'Getting Started' courses to more advanced and pedagogy focused courses.
VEX Video Library: Access to hundreds of videos across a variety of topics and VEX platforms, available anytime and from anywhere.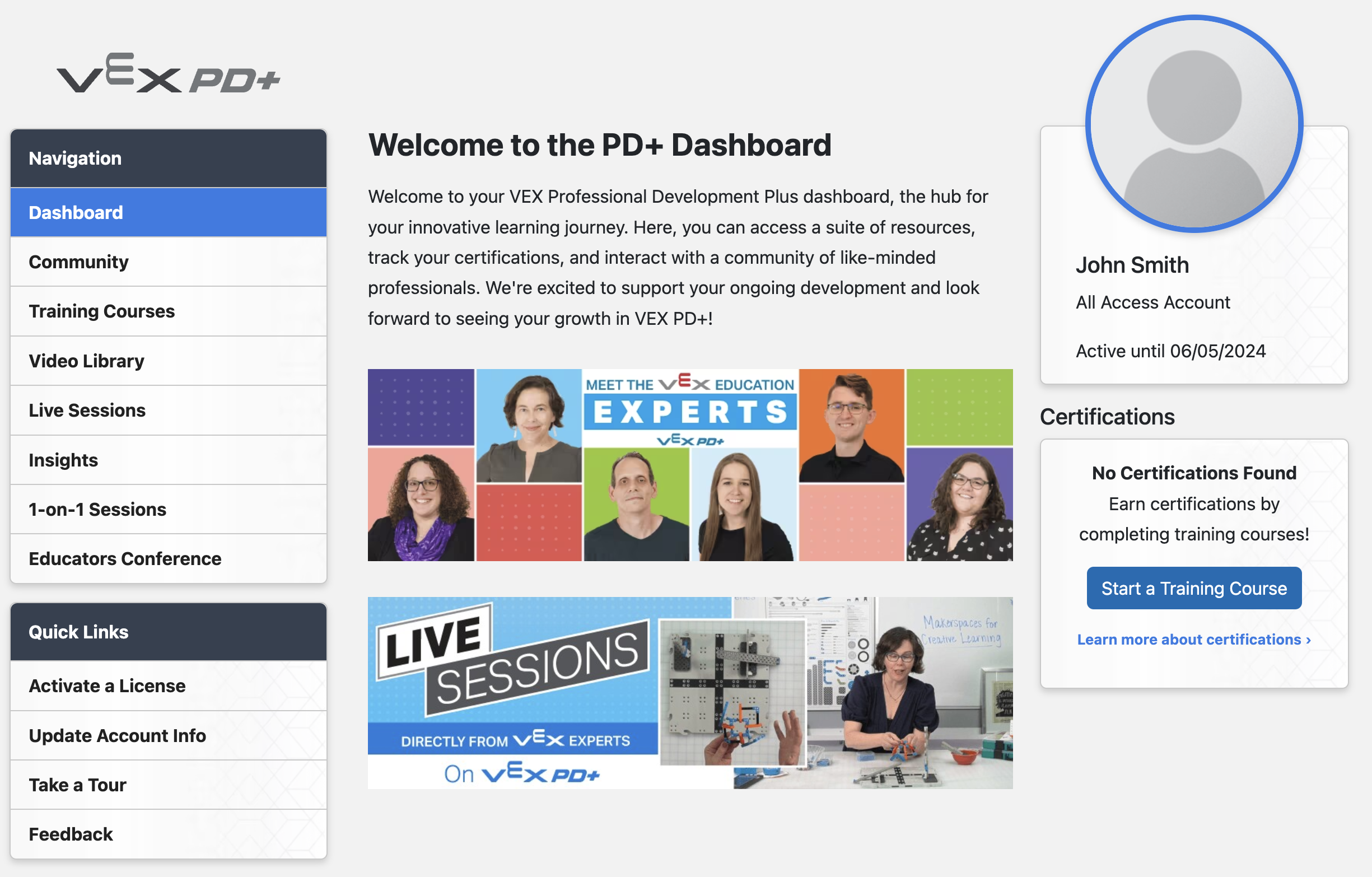 Live Sessions: Thematic, hour-long, expert-led sessions that provide insights and practical takeaways about teaching with VEX.
VEX Robotics Educators Conference: An annual conference that brings the VEX PD+ Community together for in-person, hands-on learning, inspiring keynotes, and learning sessions with VEX education experts.
Every user will also have access to their own dashboard, which includes a tour of all the VEX PD+ features, allowing them to get started easily. We are continuously updating PD+ with new materials, ensuring our platform remains a rich, dynamic resource for our educators.
We are here to support you on your professional journey. If you have any questions, or feedback, you can use the feedback tool in VEX PD+. We're excited for you to explore, learn, and connect.