Purchase Orders are one of many ways to place an order with VEX Robotics. For a full list please visit the How to Order Page.
Below is an example of an acceptable PO. Please feel free to download this example as a reference. Any POs with incorrect or incomplete information will not be accepted until revisions are made. There are no exceptions to this rule. If you have any questions or concerns, please contact VEX Customer Service at sales@vex.com or 903-453-0802.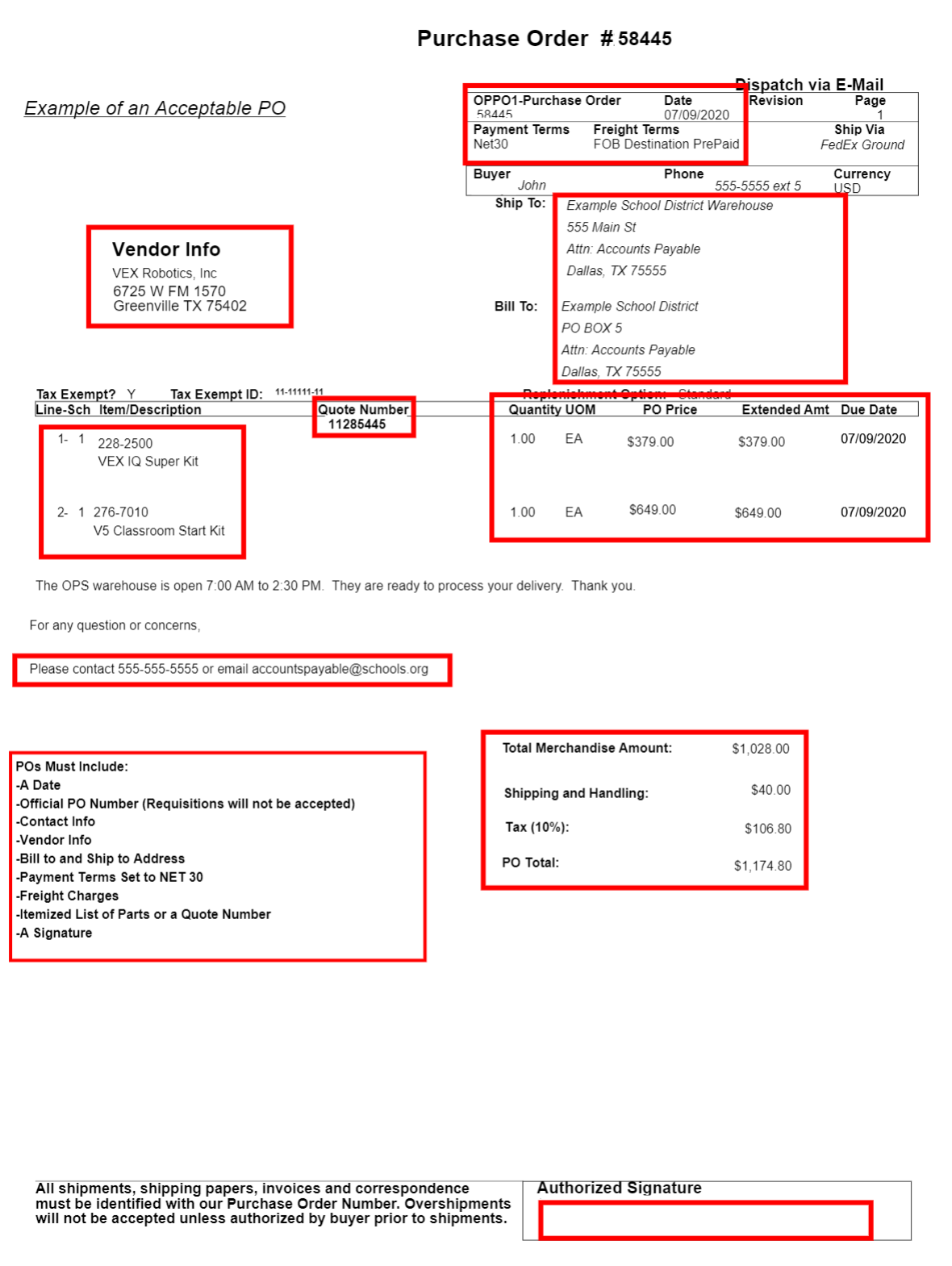 The following are required on ALL Purchase Orders:
Purchase Order Number

All orders must have a PO number clearly referenced. Please note that "Requisition Numbers" will not be accepted.

Vendor Information

The correct vendor information must be on the PO. Missing or incomplete vendor info, will need to be revised before acceptance.

VEX Robotics, Inc
6725 W FM 1570
Greenville, TX 75402
Billing Information

Billing information must be included on your PO. Be sure to include an address, email, and phone number that can be reached for any billing inquiries.

Shipping Information

A Shipping Address is required, even if the shipping will be the same as the billing address. Please be sure to include any additional information such as Attn:, Gate Numbers, Delivery Location, etc.

Delivery Date

VEX Robotics ships out all orders as soon as all in stock products are available. This means your order will generally ship out within 24 business hours of being processed. If someone will not be available for the delivery or another ship/delivery date is requested, please contact us prior to placing your order and include the Delivery Date on your order.

Payment Terms

All Purchase Orders received will by default be subject to NET 30 Terms and must be written on your PO. If you require different Terms please contact Customer Service.

Itemized List of Parts

Each Line Item should include a Part Number, Quantity, and Price per Unit. If parts are not listed, then a Quote Number should be clearly referenced in the body of the PO. Quotes can be generated directly from our website. If you need to Generate a Quote, please visit our How to Order page.

Financial Shipping Responsibilities

Shipping and Handling charges and terms must be added to the PO. Please note that Shipping and Handling is taxable. If you have a shipping account you would like us to charge, please contact Customer Service and include the information on your PO.

Grand Total

A total that includes item totals, shipping, and tax will need to be added to your PO. We charge for Shipping and Handling, therefore tax will also be added to freight charges. If you are exempt, please visit the How to Apply for Exemption Page.

Authorized Signature

A signature is required on all official documents of a PO.