Follow the steps outlined in this article to return VEX products that are under warranty. You will need to submit a Return Material Authorization (RMA) form and send back equipment as shown below.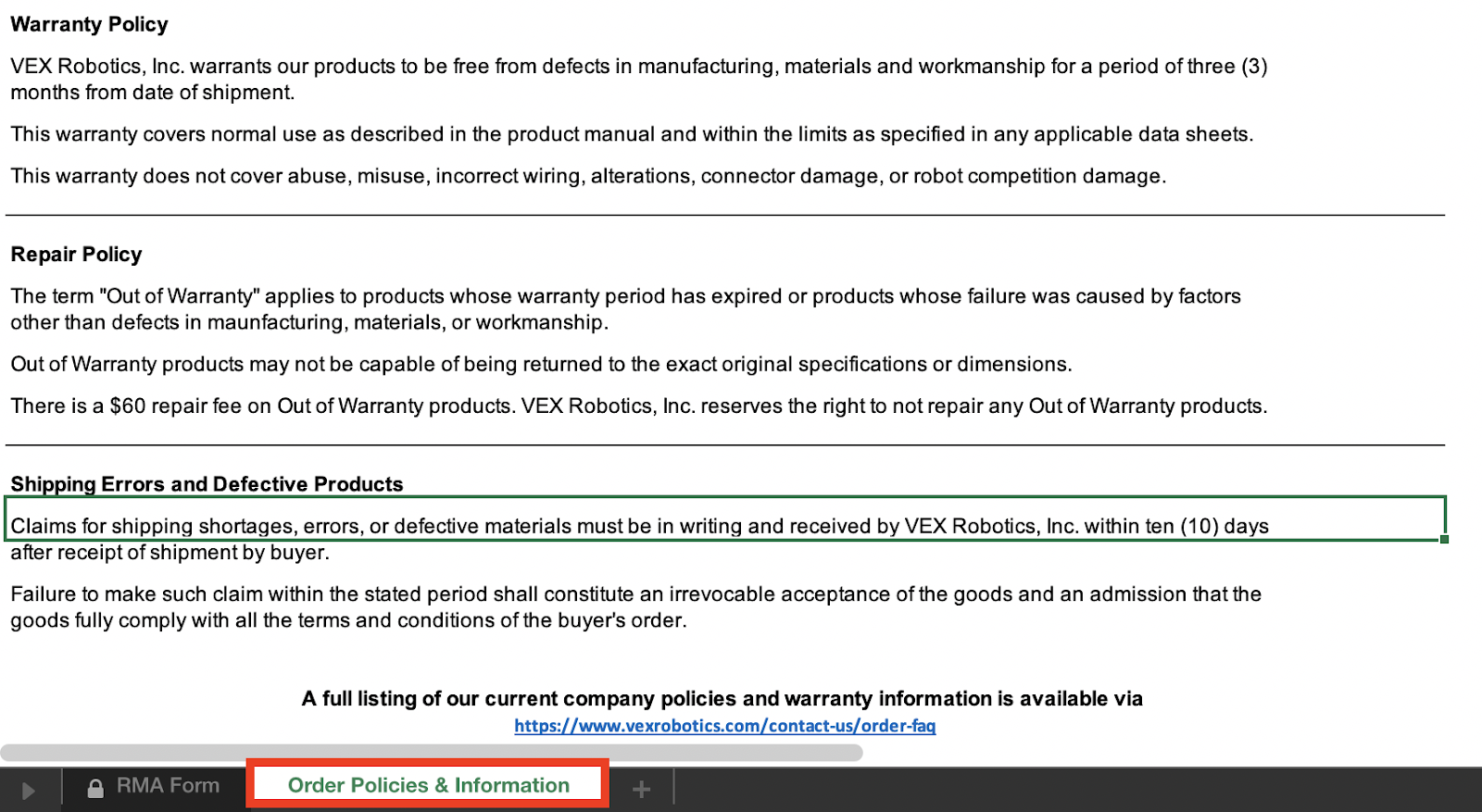 Download and complete the VEX Robotics RMA Form, and email it to support@vex.com. This form contains all fields that are required to process your RMA, and our return policies can be found on the second tab.
VEX Support will respond to your email with a personalized RMA number. Print out the completed RMA form (including the RMA number), and mail it back to your regional VEX office along with the product that needs to be returned / repaired / replaced. Please be sure to include a list of the issues associated with each item being sent back. Customers are responsible for the cost of reshipping the item(s).
Damaged products from the following list may be subject to a $80 USD repair fee if they are outside of the standard warranty period:

V5 Robot Brain
V5 Controller
VEX IQ Robot Brain
VEX ARM® Cortex®-based Microcontroller
VEXnet Joystick
This fee does not include shipping, sales tax, and may only be used for a total of up to (5) repairs.
This fee may be paid via credit card or check. We do not accept PO's for this fee.
VEX Robotics Inc. reserves the right to not repair any Out of Warranty products. The term "Out of Warranty" applies to products whose warranty period has expired or products whose failure was caused by factors other than defects in manufacturing, materials, or workmanship. Please note that depending on the circumstances, Out of Warranty products may not be returned to their exact original specifications or dimensions.

Returns for credit are accepted for a period of three (3) months from the date of shipment and are subject to a 10% restocking fee.
Note: Programming software and digital curriculum purchases are non-refundable.