Start by Typing the Device Name
Device names examples (Brain, Motor, Drivetrain)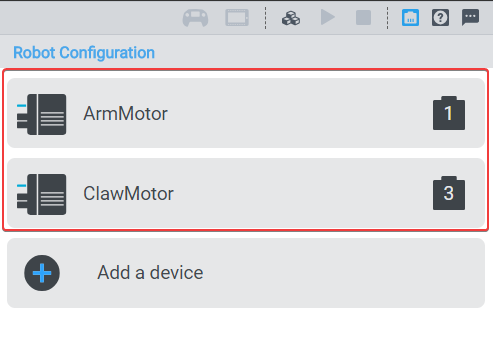 A drop-down selection menu will appear. This menu will show all the configured devices available. For example, if you have two motors configured, ArmMotor and ClawMotor.

When you start typing "A" or "C," you will find the two configured devices as options in the dropdown list.
Configured devices can be modified. For example, you can rename ArmMotor to RobotArmMotor.
To make a Selection with the AutoComplete

Press "Enter/Return" or "Tab" on your keyboard or left click on the command with your mouse.
NOTE: With longer selection, you can make a selection using one of the following options:
Use your "Up" and "Down" keys to select the name you want, then press "Tab" or (Enter/Return) on your keyboard to make the selection.
You can scroll up and down with your mouse. Then you can left click with your mouse on the desired name to make the selection.
Add a Dot Operator to List all the Commands Available to that Device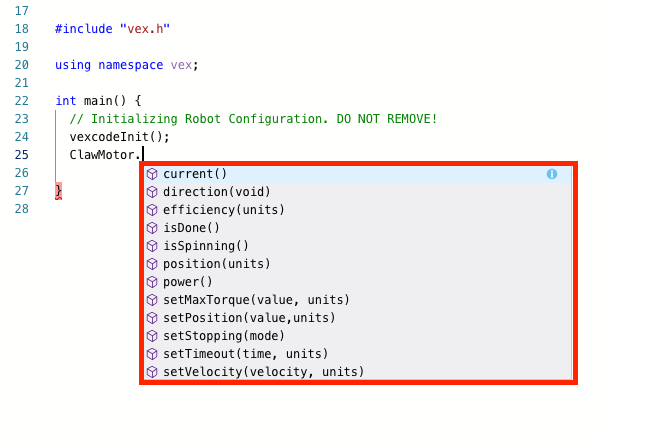 Make a Selection by Using One of the Following Options
Use the "Up" and "Down" buttons on your keyboard to navigate the menu and then press "Return" on Mac, "Enter" on Windows to make a selection.
Left click with your mouse on the desired command.
NOTE: You must have a device configured to be able to utilize the AutoComplete functionality for that device. For example, if you have a bumper configured at port A and you start typing "B," a drop-down menu will include the bumper you configured at port A as "Bumper," otherwise nothing will show.
Add Parameters


Parameters are the options that are passed to the command between the parenthesis.